Warranty on Parts & Labor
100% Customer Satisfaction
Dryer Repair
---
Do you need repair for your Broken Dryer?
Is the Dryer Broken?
Storing damp clothing in premises could facilitate the growth of mold; therefore it is necessary to get in touch with an upright appliance repair service company where technicians answer the phone. Furthermore, you will be given a free estimate over the phone for dryer repair before you book an appointment. You could be advised by the technician how to stop a leak temporarily before they get to your premises.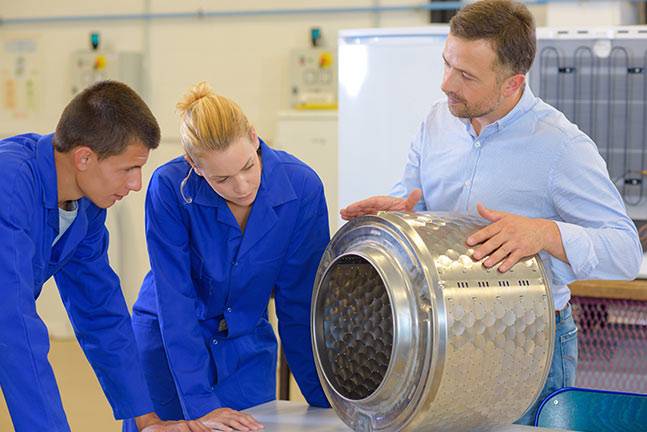 Get in touch with a skilled appliance service company if your dryer takes too long drying clothes. The company contracted should;
Charge reasonably for services rendered
You are in a position to get a discount to have your dryer repaired if you choose the services of a reputable appliance repair company that provides competent services at affordable rates.
Have original manufactures parts
If your dryer makes a lot of noise when in operation, hire the services of a reputable appliance repair service company that has a range of original spare parts from the manufacturer. Your drier will work better and more efficiently when a faulty part is replaced with one that has a perfect fit as designed by the manufacturer.
Be operational 24/7
A leaking dyer could flood the basement in a short time; the cleanup expenses could be exorbitant. Therefore it is important to get in touch with a trustworthy repair service company for dryer repair if the leaking continues. They should be open for business to send a technician to your premises in no time. They will go an extra mile to advise you how to use your drier efficiently.
Clean up after repairs
Staff from a reputable appliance repair company will ensure they clean up the mess they create during repairs. Any accidental damages that may occur during repairs will be compensated by their insurance coverage.
Quick response
An appliance repair service company that responds promptly to a customer's request will prevent further damage that could occur when an appliance fails to work properly. Leaks and smoke from an appliance could cause anxiety to a homeowner.
Same day service
It may be necessary to hire the services of a reputable appliance repair service company if a loaded dryer does not start. The technician sent for dryer repair must be able to diagnose and fix the problem before leaving the client's premises. Facilities that provide dry cleaning services could lose a lot of business if the dryer is not fixed as soon as possible.
Repair all brands
An appliance repair Service Company that is able to repair all types of brands is in a position to repair your dryer quickly and effectively for dry clean clothing in no time. They should have pleasant staff who will keep you informed on the repairs done to your dryer. We are proud to service Dacor, Whirlpool, Frigidaire, and much more.
After sale service
A good appliance repair service company will get in touch with you for follow up service to find out if your dryer is working efficiently. Furthermore, they could be persuaded to give you a discount should you need services done on other appliances in your premises.
Read our reviews on HomeStars, like us on Facebook and don't forget to share this page, just click on one of the links below.
👇