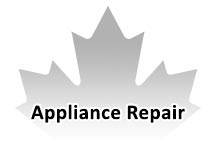 Appliance Repair West Carleton
---
The Leading Appliance Repair Service West Carleton
When it comes to choosing the top appliance repair service in West Carleton, you can trust the stringent standards set forth by industry regulators. These governing bodies ensure that anyone offering appliance repair services possesses the necessary qualifications and tools for effective repairs. To obtain a license, individuals must demonstrate their expertise in the field.
Furthermore, these regulatory bodies routinely conduct inspections to verify that licensed professionals adhere to established guidelines and rules. This oversight covers both service quality and pricing. Those who provide subpar services or overcharge customers face consequences. While these measures may seem rigorous, they ultimately ensure that licensed appliance repair providers operate within the legal framework, consistently delivering top-notch service to their customers.
For Appliance Repair in West Carleton, contact us today to experience the epitome of appliance repair services.
Exceptional Home Solutions in Picturesque West Carleton
West Carleton, a charming town in Ontario, boasts a thriving community that relies on household appliances for their daily routines. Many locals trust appliances from reputable brands. If any of your appliances in West Carleton happen to malfunction, don't rush to replace them just yet. ARS Appliance Repair West Carleton Services is at your service, offering expert repair and replacement solutions.
We take pride in being certified by leading appliance brands to handle the repair of their products, ensuring that the repairs we provide meet the highest standards. Our Grade A repair services encompass a wide range of appliances, so don't give up on your malfunctioning washer or your aging oven. Contact us today for the following repair services:
Appliance Repair West Carleton Available 24/7
Appliance issues can arise at any time, day or night. That's why we offer round-the-clock services, 24/7, without additional charges. Whether it's a regular weekday, a bustling weekend, or even a holiday, our dedicated team is always ready to address your appliance concerns promptly.
Certified Parts
We use only certified parts directly from manufacturers to ensure the highest quality repairs for your appliances.
Warranty
We stand by our work, offering warranties on all parts and repairs, providing you with peace of mind.
Same Day Service
For emergency repairs, we offer same-day service to minimize any disruption to your daily routine.
Weekends & Evenings
Our services are available on Saturdays, Sundays, and weekdays from 8 AM to 9 PM, accommodating your busy schedule.
Service Call Waived
 If you proceed with the repair, we waive the service call fee, making our services cost-effective.
What We Repair
At ARS Appliance Repair West Carleton, we specialize in repairing a wide range of household and business appliances, including but not limited to dishwasher repair, washing machine repair, range and stove repair, dryer repair, fridge repair, TV repair, and more.
Brands We Repair
Our expertise extends to repairing various appliance brands, including Admiral, Jenn-Air, Thermador, Frigidaire, Samsung, LG, Viking, Amana, and Dacor.
Authorized and Factory-Licensed on All Major Appliance Brands
Rest assured that the brand of your appliance is not a concern, as we are authorized and factory-licensed by all major brands to perform repairs on their appliances. We source all our parts directly from the brands or their authorized distributors, ensuring the highest quality and authenticity for your repairs.
Contact Us Today
Don't wait until your appliance problems escalate. If you reside in West Carleton and encounter any of these issues, contact us immediately. We'll diagnose the problem and provide a solution promptly. Your satisfaction is our commitment, and your convenience is our priority. Let us keep your life running smoothly, one appliance repair at a time.
WEST CARLETON APPLIANCE REPAIR – SERVICE AREA

Read our reviews on HomeStars, like us on Facebook and don't forget to share this page, just click on one of the links below.
👇
Reviews from Our Customers
james enns
September 22, 2023
Fast and easy to deal with.. fixed properly
Dorie Stewart
September 15, 2023
We had an issue with our LG oven - not heating properly. The technician arrived on time, knew exactly what the issue was within 5 minutes and promptly fixed the problem. He was pleasant and knowledgeable and also gave me tips on how to prevent it from happening again. I would strongly recommend this company - very efficient!
Jerri Loewig
September 14, 2023
ARS repaired our refrigerator. They were very professional and cooperative. They were also helpful in working with the manufacturer in resolving the out of warranty issue. We would like to acknowledge Ghila Birman for her excellent customer service.