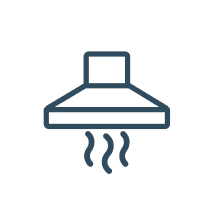 Range Hood Repair Service
The Best Appliance Repair in Toronto and GTA for Range Hoods & Parts.
Warranty on Parts & Labor
100% Customer Satisfaction
Range Hood Repair
---
Range Hood Not Working?
You may need a ventilation system for your kitchen if your cooking over a range, oven or a grill. Its job is to vent the smoke that comes out while cooking.
Every now and then, a Range Hood can stop working and fill your kitchen with smoke.
If that happens, you need to find a reliable and respected Range Hood repair service. Appliances Repair Service can repair any home cooking ventilation and Range Hood brand in the appliance industry.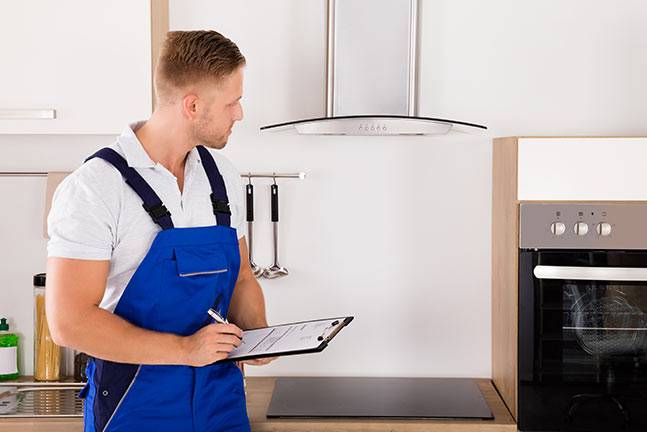 No hidden charges
The Range Hood repair company you chose should be trustworthy and provide upfront pricing. Before you receive a repair, you should know how much you're going to pay. A Range Hood repair technician should provide you with a competitive price quote.
Fast and effective service
A malfunctioning ventilation system for your kitchen can be a highly time-sensitive problem. Select an appliance repair company that offers fast same day and 24/7 service.
Reasonable pricing
Expensive Range Hood repairs and maintenance mistakes should be avoided. An appliance repair company should always provide excellent service at a reasonable price.
Highly qualified staff
A qualified appliance repair technician should be able to fix any brand of ventilation systems for your kitchen. They should have sufficient training and experience troubleshooting common Range Hood defects and be proficient at ordering parts.
Range Hood Repair Service
Range hood is a very important kitchen equipment. However, there are many who don't know how important this piece of equipment is. We shall highlight the importance of Range Hoods and give examples of common range that could develop when using your Range Hood. If you have a faulty Range Hood, you can call on us at ARS Appliance Repair Services. We offer quality repair services for your Range Hoods as well as other home appliances such as dryers, washers, wine coolers, refrigerator, etc. ovens, etc.
Importance of Range Hood
The benefits of using Range Hoods in your kitchen includes the following:
Range hood improves the quality of air in your kitchen
Reduces carbon monoxide intake in the kitchen environment
Range hood cools off the kitchen area thereby reducing excess heat.
It acts as a filter to clear up hazardous pollutants which in turn protects your health.
Range hoods reduces smells and heat in the kitchen thereby making cooking enjoyable.
Range hoods provides additional lighting for you in the kitchen
It provides for a cleaner Kitchen by ensuring moisture or grease does not stick to your pots or stove.
Types of Range Hood we repair at ARS
Ducted Range Hood
Ducted Range Hoods are suitable for removing air from your kitchen to outside your home.
Recirculated or Non-Ducted
They are suited for filtering and recirculating air.
Under-Cabinet Range Hood
Under-Cabinet Range Hood comes with replacement filters.
Ceiling-Mounted Chimney Range Hood
As the name implies, they are usually mounted high from your kitchen to outside your cooking area.
Custom Built-In Range Hood
They are customized Range Hoods usually built with cabinet fittings.
Common Range Hood faults we repair at ARS
Clogged grease filters
This reduces efficiency and reduces air circulation in the Range Hood.
Clogged carbon filters
Clogged carbon filters in your Range Hoods reduces the rate of air purification from odor.
Clogged ventilation system
This can lead to increase load on the motor, thereby reducing durability.
List Of Other Home Appliances And their Common Faults We Fix At ARS
Refrigerator Faults
Broken Ice dispenser
Faulty water dispenser
Defective lights
Poor draining
Difficulty in defrosting
Poor cooling
Strange sounds
Freezer Faults
Increased buildup of frost
Broken freezer door
Accumulated frost on the freezer's coil
The warmth inside the freezer
Strange sounds
Failure to freeze
Damaged lights
Washer Faults
Leakages
The inability of the washer to drain properly
The inability of the washer to fill properly
Failure to turn on
Unusual noises
Failure to run through cycles
Errors on the digital display
Dishwasher Faults
Low water temperatures
Film-coated dishes after washing
Poor drainage
Inability to fill up with water
Damaged timer
Oven Faults
Broken heating elements
Failure of the oven to ignite
Gas leakages
Fluctuating temperatures
Poor functioning of the burners
Dryer Faults
Loud noise
Failure to start
Damp clothing after a drying cycle
Failure of dryer to get heated
Stove Faults
Greasy surface
Failure of pilot light to come on
Defective oven lights
Weak Burner flames
Inactive pilot light
The frequent odor of gas
Strange, hissing noise as a result of air
How To Get In Touch With Us
You can get in touch with our group of experienced, well trained and certified technicians by chatting with us live on our website. We can also be reached on our phone lines. We are just a call or click away, and we promise you a satisfactory service.
Read our reviews on HomeStars, like us on Facebook and don't forget to share this page, just click on one of the links below.
👇
More Problems & Solutions from Our Blog