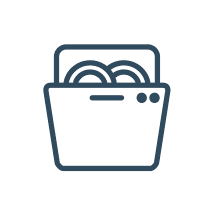 Dishwasher Repair Service
The Best Appliance Repair in Toronto and GTA for Dishwashers & Parts.
Warranty on Parts & Labor
100% Customer Satisfaction
Dishwasher Repair
---
Is Your Dishwasher Not Working Well?
Dirty dishes can pile up quickly occupying every surface in the kitchen when the dishwasher is broken. Establishments that cook and sell food could get into trouble with the health board if the recommended level of sanitation is not observed. It is therefore very important to get in touch with a reputable appliance repair service company for dishwasher repair.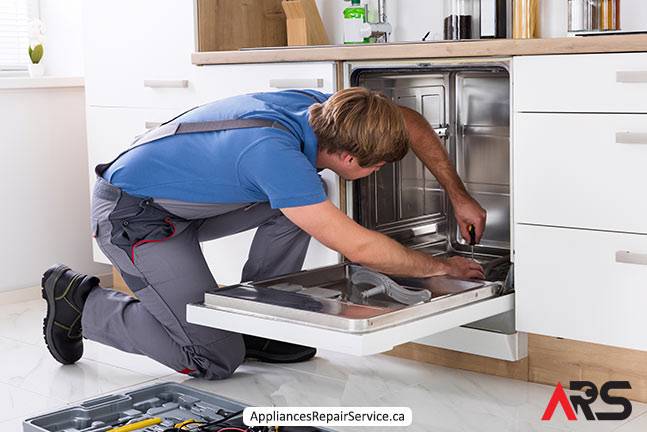 We Provide The Best Dishwasher Repair!
Is your dishwasher not running a full cycle? We know a broken dishwasher can leave you with unclean dishes. Call the experts at ARS Appliance Repair for help. We have a staff of trained appliance specialist ready to take your call. We'll dispatch a licensed appliance repair technician to your home or business where they will analyze your malfunctioning dishwasher.
Our appliance repair techs will find out why your appliance is not working properly. They have experience fixing all major makes and models of kitchen and laundry appliances. You will always receive the lowest possible price quote before the repair begins. If they are unable to complete an appliance repair on the first visit, they can order the required part to get the job done.
Contact us now to have your dishwasher repaired today. Call or email us for prompt and courteous service. Follow up services from Appliance Repair Service are very important to ensure your dishwasher works perfectly after the repairs. Get in touch with us for:
Fast And Effective Services
If you are in business, time is money; therefore you need the contact details of a trustworthy repair service company on speed dial. The service provided to your appliances should be effective to ensure it does not break down when you are doing the dishes.
Repair All Brands
It is necessary to hire the services of an appliance repair service company that has a wide experience in repairing different brands of appliances in the market. Therefore you are assured that your dishwasher is in good hands when you call them for dishwasher repair.
Great Customer Reviews
Satisfied customers will tell others about the good service given; therefore always check customer reviews before buying the services listed on a company website. It is necessary to do extensive research to be well informed about a company.
Educative Information
A reputable repair service company is in a position to offer their clientele relevant information how to use their appliances effectively. Small problems with the dishwasher can be resolved with the advice of the customer care agent when contacted over the phone or through their chat facilities.
Quick Response
Everybody needs their problem addressed promptly; therefore a repair service company that offers a quick response to an inquiry should be hired for dishwasher repair. Free estimate online will help a client have funds available when the technician completes repairing the appliance.
Qualified Certified Staff
Never allow anyone without certification to repair your appliances; therefore it is very important to be vigilant before allowing anyone into your premises. The appliance repair services company chosen should keep their staff up to date through training workshops so that they remain relevant in the market.
They should also have clear communication skills so that the client understands the repairs and services required for their appliance for billing purposes.
Open 24/7
Hiring the services of an appliance repair service company that is open all the time is to your advantage. If a problem occurs after the repairs are done, their office is manned to offer you the necessary assistance.
Reliable
You need to hire the services of an appliance repair service company that is able to do what it says it can. Furthermore, their staff should be good in time management to ensure they diagnose problems with your dishwasher as soon as possible. They should be honest, carry out and charge only for necessary repairs to have a client's appliances up and running in the shortest time possible.
Read our reviews on HomeStars, like us on Facebook and don't forget to share this page, just click on one of the links below.
👇
More Problems & Solutions from Our Blog