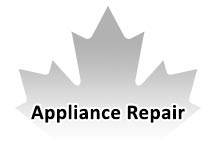 Appliance Repair Hamilton
---
In Hamilton, you get reliable appliances repair service provider any time of the day or night. The tricky part is telling who is reliable; this article will help you in making this crucial decision when you need a refrigerator repair, dryer repair, stove repair or any other appliance repair here in Hamilton. If you ask any of your friends who may have used dishwater repair or any other such repair services, he or she will be in a very good position to tell you of the experience. Through such an experience you will be able to tell whether a service provider is reliable or not. There are servicemen who when called upon to offer same day oven repair, they are on location within a few minutes and within an hour or less they have solved the problem and left the owners premises.
Leading Hamilton Appliance Repair Service
This is a kind of an appliance repair service provider who can be described as professional and reliable. It is a kind of service provider who is worth hiring at any time of the day or night. There is another type of repair service providers who will not respond on time and when in the premises, they will delay in offering the service. This kind of a service provider is not reliable; he or she will end up disappointing you either due to delays or poor services.
Therefore make sure you do your research, get the best out of many providers who are found in Hamilton area and surrounding area of Waterdown you will not be disappointed. Doing it any other way will lead to serious disappointments when you cannot dry your clothes, or even cook when your machine is not functioning. Getting referrals from people who have used the appliances repair services is one of the best sources of such information, chances of being satisfied with the repairs done by such a provider are very high.
When do you need Professional Appliance Repair Services?
Home appliances are an essential part of every home. In the present age, we have grown accustomed to appliances such as refrigerators, ovens, washers, dryers, etc. However these appliances have some problems at some stage or the other, causing inconvenience to us and we need the services of a technician to repair the appliance. If you are looking for appliance repairs in Hamilton, the most reliable services are provided by ARS!
The technicians at ARS are adept at repairing different types of home appliances. We are also the authorized service center for most brands of home appliances.
What can an ARS technician help you with?
Resolve problems with your Refrigerator such as:
If the refrigerator is not cooling the food.
If there is water leaking from the refrigerator.
If the freezer is not cold enough.
Buildup of frost.
The refrigerator is freezing food, etc.
Resolve problems with your washers such as:
Washer not starting.
Washer making strange sounds.
Vibrations in the washer.
Clothes not drying enough.
Washer stops during the cycle.
Water not draining out of the washer, etc.
Problems with your dryer such as:
Dryer making strange noises or vibrating.
If the dryer does not heat.
If the dryer does not run.
If the dryer shuts off during the cycle.
If the clothes don't dry after the complete cycle of the dryer.
Problems with your dishwasher such as:
If the dishes don't come out clean.
In case the dishwasher does not start.
Water does not drain out of the dishwasher.
Water leaks from the dishwasher.
If the dishwasher makes strange noises.
Problems with your oven such as:
The gas burner not lighting up.
If your range burner does not heat.
If the oven does not heat to the set temperature.
If the oven door does not shut.
If the oven does not self-clean.
Problems with your HVAC system:
Inadequate heating or cooling by the HVAC system.
Water leaking out of the unit.
If the air conditioner makes strange noises.
If your energy bills become high.
If you notice foul odor indoors.
Problems with your Microwave:
If the microwave does not heat.
If the microwave stops suddenly.
If the plate of the microwave does not spin.
If the light bulb inside the microwave does not turn on.
If there is sparking inside the microwave.
Problems with wine coolers:
If the wine cooler is not cooling sufficiently.
If it makes a loud sound while running.
If you notice frost building up in your wine cooler.
If there is water leakage from the wine cooler.
If there is fog buildup on the glass.
If the wine cooler is not lighting up properly.
In case you experience any of these problems with your appliances, you can connect with ARS!
Why ARS?
We are an authorized service center for repairs of all home appliances.
We have an experienced group of technicians who understand the technology and working of different types of home appliances.
We are available 24/7. So, we can attend to your problem at your time of need.
We try to provide same-day repairs for your appliance.
We use genuine parts for replacement.
We carry the appropriate tools for repairs.
Our technicians are polite and friendly.
Our technicians visit your premises according to the scheduled appointment.
We repair your appliance such that you do not face the same problem with your appliance repeatedly.
We offer a warranty for our services and the parts used for repairs.
In case you are looking for reliable home appliance repair in Hamilton, ARS is the best choice for you!
Read our reviews on HomeStars, like us on Facebook and don't forget to share this page, just click on one of the links below.
👇