Warranty on Parts & Labor
100% Customer Satisfaction
The Best Avanti Appliance Repair Service & Wine Cooler Repair in GTA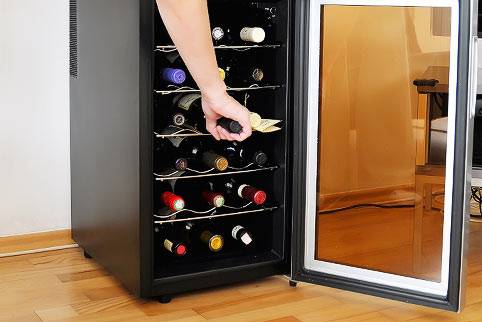 The presence of a wine cooler in your home represents a host of things, some of which include; luxury, beauty, and refreshments. Wine cooler such as those produced by the Avanti Appliance Company are great buys.
Wine coolers help to maintain any type of wine at an optimum temperature, thereby preserving the flavor and the shelf life of the wine. Wine coolers are also great for those who value their privacy- not everyone has a business sticking their neck in your refrigerator.
The wine coolers by Avanti come in both single and dual designs, and you can cop one if you haven't already. If you own an Avanti wine cooler and you observe that it has come up with some faults, we can with you Avanti Appliance Repair.
ARS Appliance Repair and Installation company is one of the best-authorized repair company you can trust out there to fix your broken Avanti wine coolers. If your wine is coming out of your wine cooler a little too warm for your liking, we can help troubleshoot the problem. But first, let us look at the major problems that can affect your wine cooler;
Compressor Issues
The compressor of a wine cooler is its powerhouse. Temperature fluctuations arise mostly from compressor problems. It may be that the compressor is not getting an adequate supply of power, or in some cases, it might be having difficulties starting. Add to that; overheating can also cause faults in your compressor.
Capacitor Faults
Without the capacitor, your wine cooler's compressor cannot be powered. Capacitors help to transmit energy to the compressor, and a faulty capacitor will cause your cooler to stop cooling.
Broken Evaporator
The chilled air that blows from your cooler when you open it is a result of its evaporator. Evaporators suck air from the cooler's coils and keep the interior of the refrigerator cool. A faulty evaporator means that there will be no cold air to keep your refreshments at a cool temperature.
Fan Issues
The fans in a compressor also play a pivotal role in the wine cooler's operation. A broken fan signifies an abnormal change in temperature, leading to overheating.
Thermostat Problems
A broken thermostat will reduce the efficiency of your wine cooler. When your thermostat gets faulty, the sensors indicate the issues, and this might reflect in the fans. When the thermostat of a cooler gets faulty, it leads to abnormalities in temperature changes. Contact us for Avanti Appliance Repair.
Failure Of Cooler To Turn On
Improper power cord connections and tripped fuses can cause failure of a cooler to power on.
Strange Noises
When a part or few of your wine cooler has malfunctioned, it can cause the device to erupt in some sort of funny noise.
Leakage Of Water
It is one thing to manage a wine cooler that doesn't cool, but it is another ballgame having a cooler that leaks water. Water leakages in your wine coolers are mostly caused by faulty door seals or a blocked drain line.
The reasons why your wine cooler does not cool might stem from different factors. This is why a professional is needed to troubleshoot whatever is wrong. It is not uncommon to see users trying to fix a broken wine cooler themselves, while this may work for some at first, it usually results in a throng of problems after some time. Why shorten the lifespan of your cherished Avanti cooler because of ignorance?
Only a group of experienced wine cooler specialists can be able to trace any problems and fix it. You need us at ARS Appliance Repair and Installation when your wine cooler develops a fault. Contact us for Avanti Appliance Repair.
At ARS Appliance Repair Service we are specialized in Avanti Appliance Repair and serve Toronto, GTA, London, Mississauga, Brampton, Barrie, Oshawa and more. If you are having problems with your broken Avanti Wine Cooler, call us today. We will help you diagnose and repair your broken appliances. Call us today for Avanti Appliance Repair.
Book an appointment today with our technicians for Avanti Appliance Repair Service. We are experts in Avanti Wine Cooler Appliance Repair and all other Avanti Appliances. Contact us for Avanti Refrigerator Repair, Avanti Dishwasher Repair, Avanti Range, Stove and Oven Repair, Avanti Washer Repair and Avanti Dryer Repair.
Read our reviews on HomeStars, like us on Facebook and don't forget to share this page, just click on one of the links below.
👇
Reviews from Our Customers
james enns
September 22, 2023
Fast and easy to deal with.. fixed properly
Dorie Stewart
September 15, 2023
We had an issue with our LG oven - not heating properly. The technician arrived on time, knew exactly what the issue was within 5 minutes and promptly fixed the problem. He was pleasant and knowledgeable and also gave me tips on how to prevent it from happening again. I would strongly recommend this company - very efficient!
Jerri Loewig
September 14, 2023
ARS repaired our refrigerator. They were very professional and cooperative. They were also helpful in working with the manufacturer in resolving the out of warranty issue. We would like to acknowledge Ghila Birman for her excellent customer service.