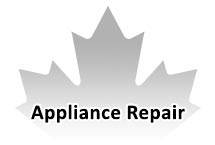 Appliance Repair Kleinburg
---
If you are in Kleinburg – how to Maintain your Household Appliances?
While we are busy in our fast-paced lives, our household appliances are working seamlessly in the background to make our lives convenient. Unfortunately we do not bother about these appliances unless they breakdown. It's when they malfunction, that these appliances catch our attention because our lives go in disarray. We need to realize that appliances also need to be taken care of, to prevent frequent malfunction. Also, you need to engage the services of a professional appliance repair company in Kleinburg to attend to your appliances when they breakdown.
Maintaining appliances helps extend their lives so that they continue to make our lives comfortable. Moreover, as such most appliances are quite expensive to buy. Therefore, it's definitely a good idea to spend some time to take care of your appliances so that you don't need to replace them.
Whether it's your fridge, washer, dryer, or oven, they all need proper upkeep and maintenance.
How to maintain your household appliances?
Cleaning
The foremost step for maintaining any household appliance is to keep it clean. We are surrounded by numerous appliances and cleaning each one may seem like a tedious task. But if you want your appliances to perform to their full efficiency, it's rather necessary to clean them regularly so that grime does not collect on them. It's also important to wipe your appliance dry after cleaning so that the metallic parts do not get rusted.
Regular Maintenance
Certain appliances like air-conditioners, kitchen chimneys, etc warrant regular service by professionals. You should not neglect the regular servicing of these appliances. Regular servicing not only increases their lives but also enhances their efficiency thus reducing your electricity bills.
Use appliance to the prescribed limit
Every appliance has certain limits of operation recommended for safe usage. Make sure that you do not exceed those limits as this'll make the appliance vulnerable to breakdown. For instance, if the recommended load for your washer is 6.5 kg, do not exceed this limit.
Do not put unnecessary stress on the appliance
If your appliance is designed to perform a certain number of tasks, ensure that you do not exceed those. If you do, it'll cause stress on the appliance and lead to a breakdown.
Do not attempt DIY in case of malfunction
When an appliance malfunctions, you may be tempted to try your hand at setting it right. But this is not a good idea. The reason is that modern-day appliances use advanced technologies. You may not have the knowledge of them and when you attempt repairing it yourself you may further complicate matters.
It's best to seek the services of a professional appliance repair company to do the needful. These companies employ technicians who have in-depth knowledge of the appliance. They are well-experienced in their field and are authorized to use genuine parts for repair and they offer you a warranty for their services.
Following these tips will definitely increase the life of the appliances in your home and make your life somewhat hassle-free! If you want to maintain your appliances in an impeccable condition, you'll surely need the services of a professional appliance repair company to help you. In Kleinburg, the best appliance repair service is provided by ARS!
We have an experienced group of technicians who are well-aware of the technicalities of different appliances. They are quick to respond to your call and repair your appliance efficiently. We also offer a flat rate for our services. We do provide a warranty of our services and the parts used.
Read our reviews on HomeStars, like us on Facebook and don't forget to share this page, just click on one of the links below.
👇