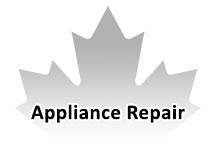 Appliance Repair Brampton
---
Appliance Repair Brampton: Your Reliable Partner
When seeking appliance repair services in Brampton, reliability is key. You want a service provider who delivers on time, ensuring your appliances, such as dryer or refrigerator, are quickly back in working order.
Expert Technicians: Appliance Repair Brampton
For services like washer, oven, and refrigerator repair, you need knowledgeable and skilled technicians. These experts can diagnose and provide effective solutions, including recommending the right spare parts. Always choose licensed and authorized appliance repair providers in Brampton to avoid disappointments and losses.
Comprehensive Appliance Repair Brampton Solutions.
At ARS Appliances Repair Brampton, we understand that the smooth operation of household appliances is essential for Brampton residents. We offer a wide array of services to cater to your specific needs, ensuring that your daily routines remain hassle-free. Here's a closer look at how we address common appliance issues:
Refrigerator Repair: When your refrigerator exhibits problems like poor cooling, abnormal sounds, or compromised ice and water dispensers, our skilled technicians step in. We diagnose the issue swiftly and provide effective solutions to keep your perishables fresh and your refrigerator running optimally.
Range & Stove Repair: Ranges are kitchen essentials for many Brampton households. Our expert technicians are well-versed in tackling issues such as overheating, chipped enamel, and faulty thermometers. We ensure that your range operates safely and efficiently, so you can continue creating culinary masterpieces.
Freezer Repair: For residents who rely on freezers to store frozen goods, issues like frost buildup, warmth inside the freezer, or unusual sounds can be concerning. Our repair services extend to freezers of all major brands. We promptly diagnose and resolve these problems to safeguard your frozen items.
Dishwasher Repair: A malfunctioning dishwasher can disrupt your kitchen routine. We specialize in addressing issues related to drainage, water temperature, film-coated dishes, and more. Our technicians ensure your dishwasher functions effectively, allowing you to enjoy sparkling clean dishes after every cycle.
Oven Repair: Ovens play a pivotal role in meal preparation, and any disruption can be inconvenient. Our skilled team is capable of resolving gas leaks, temperature fluctuations, damaged heating elements, and burner issues. We aim to restore your oven's performance promptly.
Dryer Repairs: A malfunctioning dryer can leave you with damp clothes and frustration. Our technicians are equipped to tackle various dryer issues, including uneven heating and strange noises. We ensure that your dryer operates efficiently, leaving your laundry perfectly dry.
At ARS Appliance Repair Brampton, we take pride in offering comprehensive repair services that align with the unique needs of Brampton residents. Our commitment to prompt, expert solutions ensures that your household appliances are in reliable hands. Don't let appliance issues disrupt your daily life; contact us today for all your appliance repair needs in Brampton. We're here to keep your appliances running smoothly.
Brampton: Fusing Tradition with Innovation
Brampton is a city that beautifully blends its rich history with a forward-thinking approach. This diverse and vibrant community sits along the banks of the Credit River, offering its residents a unique blend of natural beauty and urban convenience. But what truly defines Brampton are its values, which remarkably align with the principles of reliable appliance repair services.
Community-Centric Values
At the core of Brampton's identity lies a strong sense of community. Its residents take pride in fostering an atmosphere of trust and mutual respect, much like the relationship between customers and dependable appliance repair providers. Just as Bramptonians support one another, professional repair services aim to support households in need, ensuring their essential appliances function seamlessly.
Innovation and Quality
Brampton is not just a city of tradition; it's also a hub of innovation. It constantly adapts to the changing times, much like how appliance repair services evolve to meet the demands of modern technology. Repair technicians in Brampton are equipped with the latest knowledge and tools to diagnose and fix appliances, ensuring the highest quality service, much like the city's commitment to progress.
Family-Centric Living
Brampton takes pride in being a family-friendly city, with a strong emphasis on nurturing a safe and welcoming environment. This aligns perfectly with the appliance repair industry's values, which prioritize the safety and well-being of households by swiftly addressing appliance issues. Keeping essential appliances like refrigerators, ovens, and washers in excellent condition contributes to the overall comfort and convenience of families in Brampton.
Diversity and Inclusivity
In essence, Brampton's values of community, innovation, family, and diversity align seamlessly with the principles upheld by appliance repair services. Just as the city thrives by fostering a sense of belonging and progress, these repair providers ensure households continue to thrive by keeping their appliances in optimal condition. Brampton and its appliance repair services are united by a shared commitment to excellence and the well-being of the community.
BRAMPTON APPLIANCE REPAIR – SERVICE AREA
Read our reviews on HomeStars, like us on Facebook, and don't forget to share this page, just click on one of the links below.
👇
Reviews from Our Customers
james enns
September 22, 2023
Fast and easy to deal with.. fixed properly
Dorie Stewart
September 15, 2023
We had an issue with our LG oven - not heating properly. The technician arrived on time, knew exactly what the issue was within 5 minutes and promptly fixed the problem. He was pleasant and knowledgeable and also gave me tips on how to prevent it from happening again. I would strongly recommend this company - very efficient!
Jerri Loewig
September 14, 2023
ARS repaired our refrigerator. They were very professional and cooperative. They were also helpful in working with the manufacturer in resolving the out of warranty issue. We would like to acknowledge Ghila Birman for her excellent customer service.