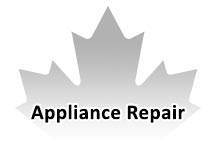 Appliance Repair Waterdown
---
Top Quality Appliance Repair for the Waterdown Area
We are happy to provide only the best in appliance repair services in Waterdown. Our skilled technicians are not only reliable, they have experience repairing appliances from all the major brands like Bosch, Whirlpool, Dacor, Frigidaire, LG, and much more!
Don't let a broken appliance disrupt your daily routine. Our techs are available at times that are convenient to work around your busy schedule. Give our Waterdown appliance repair experts a call today!
Skilled & Certified Appliance Repair Technicians
All of our repair technicians in Waterdown are certified to work with most all major brands and come from top training backgrounds. We only use high quality, OEM parts to guarantee your repairs last as long as possible. Don't simply increase your frustration with a poor appliance repair, call us for Appliance Repair Waterdown Service
Specialized Brand Repair Technicians in Waterdown
Home appliances come in different brands. Finding the right parts for a particular brand during repair is very important to ensure effective repair service. At ARS Appliance Repair Service we have well-trained technicians that specialize in repairing different brands of home appliances. We can provide you with the right parts for your faulty home appliances.
We specialize in the repair of brands such as Whirlpool, Dacor, LG, Frigidaire, Samsung, and many other brands. We display a touch of professionalism and make sure our customers are satisfied.
Why do we specialize in Appliance Repair
Uniformity of operation
Using the same brand as a replacement part for a faulty home appliance ensures that there is uniformity in the operation of the equipment because each brand comes with its design specifications.
Maximum efficiency of your appliances
Your home appliances work optimally when the right brand parts are used for repair. Our technicians in Waterdown are well trained and experienced in appliance repairs of different brands.
Our services
ARS offers a wide range of services when it comes to appliance repair. Our services are geared towards satisfying our customers. Our services:
Home Appliances Repair
The need to have a reliable home appliance service company to handle your appliances repair cannot be overstated. That is why our door is open to residents in Waterdown so they can reach out to us when they need to repair their home appliances.
Home appliances maintenance and installation
Aside from repairs of home appliances, we also offer maintenance services on your appliances. Carrying out regular maintenance on your home appliances ensures the durability of your appliances. Our technicians are also well trained in the installation of different brands of home appliances.
Home service repair
At ARS, we offer you the option of home service repair if you are not able to bring your home appliances to our Waterdown office either due to the large size of the appliance or for reason of convenience. Our technicians will be dispatched to your home to fix your faulty appliance.
Service center repair
You can bring your faulty home appliances to our service center office in Waterdown for repair.
List Of Common Faults We Fix At ARS
Refrigerator Faults
Broken Ice dispenser
Faulty water dispenser
Defective lights
Poor draining
Difficulty in defrosting
Poor cooling
Strange sounds
Freezer Faults
Increased buildup of frost
Broken freezer door
Accumulated frost on the freezer's coil
The warmth inside the freezer
Strange sounds
Failure to freeze
Damaged lights
Washer Faults
Leakages
The inability of the washer to drain properly
The inability of the washer to fill properly
Failure to turn on
Unusual noises
Failure to run through cycles
Errors on the digital display
Dishwasher Faults
Low water temperatures
Film-coated dishes after washing
Poor drainage
Inability to fill up with water
Damaged timer
Oven Faults
Broken heating elements
Failure of the oven to ignite
Gas leakages
Fluctuating temperatures
Poor functioning of the burners
Dryer Faults
Loud noise
Failure to start
Damp clothing after a drying cycle
Failure of dryer to get heated
Stove Faults
Greasy surface
Failure of pilot light to come on
Defective oven lights
Weak Burner flames
Inactive pilot light
The frequent odor of gas
Strange, hissing noise as a result of air
You can get in touch with our group of experienced, well-trained, and certified technicians by chatting with us live on our website. We can also be reached on our phone lines. We are just a call or click away, and we promise you a satisfactory service.
WATERDOWN APPLIANCE REPAIR – SERVICE AREA

Read our reviews on HomeStars, like us on Facebook, and don't forget to share this page, just click on one of the links below.
👇
Reviews from Our Customers
james enns
September 22, 2023
Fast and easy to deal with.. fixed properly
Dorie Stewart
September 15, 2023
We had an issue with our LG oven - not heating properly. The technician arrived on time, knew exactly what the issue was within 5 minutes and promptly fixed the problem. He was pleasant and knowledgeable and also gave me tips on how to prevent it from happening again. I would strongly recommend this company - very efficient!
Jerri Loewig
September 14, 2023
ARS repaired our refrigerator. They were very professional and cooperative. They were also helpful in working with the manufacturer in resolving the out of warranty issue. We would like to acknowledge Ghila Birman for her excellent customer service.