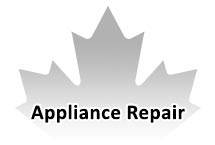 Appliance Repair London Ontario
---
Appliance Repair London And Surrounding Area
At ARS Appliance Repair Service in London, Ontario, we serve a wide region that spans from Strathroy to the west, Woodstock to the east, St. Marys to the north, and St. Thomas to the south. Our dedicated team of technicians is well-trained and experts when it comes to home appliance repair, ensuring that you receive quality and reliable service.
Why Choose ARS Appliance Repair London?
Certified Parts: We use only certified parts from manufacturers, ensuring the highest quality repairs.

Warranty: We stand behind our work with warranties on all parts and repairs.

Same-Day Service: We offer same-day service for emergency repairs to minimize your inconvenience.

Weekends & Evenings: Our service is available on Saturdays, Sundays, and weekdays from 8 AM to 9 PM, accommodating your busy schedule.

Service Call Waived: The service call fee is waived if you proceed with the repair, making it a cost-effective choice.
What We Repair:
At ARS Appliance Repair London, we specialize in repairing a wide range of household and business appliances, including but not limited to: dishwasher repair, washing machine repair, range and stove repair, dryer repair, fridge repair and more. 
Stove

Electric stove not turning on

Electric coils failing to heat up

Inability to adjust burner temperature

Indicator light not functioning

Dryer

Dryer not turning on

Noisy dryer

Clothes coming out wrinkled

Excessive heat

Prolonged drying time

Dishwasher

Ineffective dish cleaning

Dishwasher refusing to start

Frequent water fill-ups

Water leakage issues

Unusual noises

Oven

Incorrect oven temperature

Oven failing to turn on

Oven light not working

Food burning in the oven

Lack of heat generation

Refrigerator

Refrigerator not cooling despite the light being on

Cooling issues with interior light off

Defrost problems

Refrigerator water leakages

Freezer

Freezer not running

Excessive freezer noise

Interior lights malfunctioning

Freezer not maintaining a low temperature
Brands We Repair 
Our expertise extends to repairing various appliance brands, including Admiral, Jenn-Air, Thermador, Frigidaire, Samsung, LG, Viking, Amana, and Dacor.
London, Ontario – A City of Values
London is a city known for its rich history, diverse culture, and strong sense of community. Its residents take pride in the values that shape the character of their city, emphasizing honesty, reliability, and quality in all aspects of life. Londoners lead lives steeped in tradition, where strong family bonds and a commitment to community well-being are paramount.
Shared Values with Appliances Repair Services: London
Just as London places a premium on these core values, Appliances Repair Services: London aligns seamlessly with the city's principles. Our commitment to providing reliable, high-quality appliance repair services echoes the city's values of honesty and reliability.
We understand that appliances play a vital role in the daily lives of London residents, from brewing the morning coffee to preparing family dinners. That's why we prioritize efficient, top-notch repairs, ensuring that your routine remains uninterrupted.
Bringing London's Values to Appliance Repairs
In the world of appliance repair, we uphold the same commitment to excellence that Londoners expect in their daily lives. Our team of experienced technicians embodies the city's dedication to community well-being by ensuring your appliances function optimally.
With a focus on customer satisfaction, we're not just an appliance repair service; we're an extension of London's identity, dedicated to keeping everything running smoothly, just like the appliances we meticulously repair. Trust Appliances Repair Services: London, where our values mirror yours, and your satisfaction remains our top priority. Together, we keep your life in harmony, one appliance repair at a time.
Contact Us Today:
Don't wait until your appliance problems escalate. If you reside in London and encounter any of these issues.
Contact Us immediately. We'll diagnose the problem and provide a solution promptly. Your satisfaction is our commitment, and your convenience is our priority. Let us keep your life running smoothly, one appliance repair at a time.
LONDON APPLIANCE REPAIR – SERVICE AREA
Or Visit Our Local London Location Website: Appliance Repair Service London.
Reviews from Our Customers
james enns
September 22, 2023
Fast and easy to deal with.. fixed properly
Dorie Stewart
September 15, 2023
We had an issue with our LG oven - not heating properly. The technician arrived on time, knew exactly what the issue was within 5 minutes and promptly fixed the problem. He was pleasant and knowledgeable and also gave me tips on how to prevent it from happening again. I would strongly recommend this company - very efficient!
Jerri Loewig
September 14, 2023
ARS repaired our refrigerator. They were very professional and cooperative. They were also helpful in working with the manufacturer in resolving the out of warranty issue. We would like to acknowledge Ghila Birman for her excellent customer service.