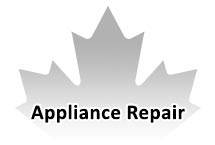 Appliance Repair Oakville
---
In Oakville, you are guaranteed of getting reliable appliances repair service at any time of the day. You are also assured of getting same day dryer repair service, especially during the cold season. This also applies to any device in question. Whether you need a washing machine repair, oven repair, stove repair or any other such repair service, for that matter you will definitely get one who is licensed and authorized to operate within this area.
These repair service providers are skilled in all areas, they will not only offer the repair services but they will also gladly advise you on the best spare parts for your appliances. Therefore rest assured that if your refrigerator is broken or have a serious problem, there will be a solution.
Trustworthy Appliance Repair Services in Oakville
The appliance repair service providers have all the tools and skills to deal with the problem; they are also armed with the necessary spare parts if needed. This means that your problem will be sorted out in Oakville, there will be no time that you will be sent to another town to buy some spare parts or told to wait until some shipment to arrive from a far away distance. The service providers are always ready to sort your problem out.
Therefore do not hesitate to have your problem solved. Experts are waiting for you to make that call and within a few minutes, they will be at your doorstep ready to offer you a solution. If the problem can not be solved on site, they will make arrangement for the appliance to transport to their garage for further checks.
This should not take long, you will have your appliance either delivered to your premises or as agreed with the repair service providers collect it at your convenient time. Appliance repair service providers in Oakville are some of the best to work with; they are reliable and professional in their conduct.
Oakville is a picturesque town located in southern Ontario and home to 193,832 citizens. Known as Ontario's largest town, it is also one of the most densely populated areas in Canada. Oakville is a vibrant community with a lot of shopping districts, beautiful harbors, art schools and the best Diners in the Great Toronto Area. Tourists abound in Oakville and appliances are one of the basic essentials in this town. This increases the need for repair companies like ARS Appliance Repair Oakville for the repairs of such valuable appliances like refrigerators, fridges, washers, and others.
ARS Appliance Repair Oakville is highly recommended by top brands like Bosch, LG, Samsung, Thermador, and others for quality repairs, servicing, and installations. Need a quick Saturday wash of the week's laundry, but your Washer is bad? Call ARS Appliance Repair Oakville today; we are committed to making you, our customers happy. Book an appointment with us, and we will get your Washer running smoothly.
Need to have some parts of your fridge replaced or repainted for a new look? Our technicians at ARS Appliance Repair Oakville Services are available and capable. Book an appointment today with us for the following repairs;
Refrigerator Repair Oakville
Our Oakville ARS Appliance Repair Oakville Service are available to answer any questions that may concern your faulty refrigerator and proffer solutions and repairs immediately. We are trained to repair fridges from all brands, including LG, Samsung, Fulgor Milano, and Wolf. These are some of the issues we can fix;
Rusted Exterior
Broken drain plate
Defrost problem
Water dripping out
Poor cooling
Abnormal sounds
Compromised Ice dispenser
Faulty water dispenser
Faulty lights
Freezer Repair Oakville
ARS Appliance Repair Oakville Services are available to fix faulty freezers from all brands including Samsung, LG, Bosch and others. We come highly recommended by frequent customers and are known for our reliability and trustworthiness. Call us today to get your freezer running in no time. These are the common problems that our specialists fix;
Warmth inside the freezer
Failure to freeze
Damaged lights
Increased buildup of frost
Faulty freezer door
Unusual noise
Accumulated frost on the freezer's coil
Dishwasher Repair Oakville
If your dishwasher is not functioning properly as you'd like, give us a call now at ARS Appliance Repair Oakville Service to get it fixed and functioning as normal.
The most frequent problems we handle are;
Poor drainage
Damaged timer
Inability to fill up with water
Low water temperatures
Film-coated dishes after washing
Oven Repair Oakville
Is your oven faulty? Don't give up on it yet; we can fix it. Our group at ARS Appliance Repair Oakville is trustworthy when it comes to repairing faulty ovens from all brands. Book an appointment with us today to get your oven repaired at an affordable price.
The Oven-related faults that can be fixed by us are;
Leaking of gas
Fluctuating temperatures
Damaged heating elements
Poor functioning of the burners
Failure of oven to ignite
Dryer Repair Oakville
Are your dryers not functioning up to speed? Do your clothes feel damp because they don't get dry enough? Then you need to call us right away, and if you're in the Oakville area, then you are in luck! We're only an appointment away. We can fix problems that involve;
Inability of the dryer to properly dry clothes
Uneven supply of heat
Strange noise
Failure to start
Clothes coming out damp
Failure of dryer to get heated
We Also provide HVAC repair in Oakville.
Read our reviews on HomeStars, like us on Facebook and don't forget to share this page, just click on one of the links below.
👇