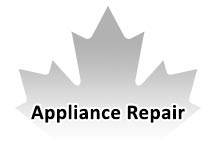 Appliance Repair Barrie
---
Did you know that you can get affordable and reliable appliances repair services in Barrie? Searching through the services providers who offer refrigerator repair or any other appliances in the town will give you a number of options. This means that when you need dryer repair or even oven repair there is someone waiting for your call to give the required services. Having said that it is important to make your decision wisely to choose the service provider can be trusted to give the required services.
Some of the dryer repair services providers will charge you exorbitant prices while other will give you a substandard service. To be on the safe side always select the dishwater repair or any such repair service provider who will deliver the kind of results that you want at a price which is affordable.
Proudly Servicing Barrie's Appliance Repair Needs
Most of the repair service providers will take advantage of your desperation to have a washer repair to charge you exorbitant prices but if you search carefully you will get one who can give you a good deal. It is not a hard task to look for the best appliance repair, get contact from people who have used their services before or search for the feedbacks that have been left by the people who have used a given provider.
With this method, you will definitely get somebody who can give you what you want at a price which you can afford. Look for appliances repair services in Barrie with confidence and you will get what you are looking for at the right quality and at an affordable price. Many have done it before and they have not been disappointed, be assured that with proper search you will get the kind of services that you want.
Benefits of Professional Appliance Repair Services in Barrie
One of the key factors to ensure a happy home is convenience and comfort. This is possible with the seamless functioning of all the home appliances. We need appliances such as refrigerators, microwaves, washing machines, etc. working smoothly so that we can take care of our responsibilities in this fast-paced live. It's when any of these appliances malfunction that we are in dire straits and need help. We then'll require the services of an appliance repair company. ARS as a company provides the best appliance repairs in Barrie!
When a home appliance malfunctions, you can either replace it or repair it. Replacing a home appliance can be expensive. Therefore, it's better at times to get it repaired by a reliable appliance repair service.
Engaging the services of an appliance repair company offers you several benefits:
Saves your Money
Hiring an appliance repair company saves your money. This is because it's rather economical to repair your appliance than replace it.
Convenience
Engaging the services of an appliance repair company who can send technicians is definitely more convenient because you don't need to carry the appliance to the service center. On the contrary, the technicians of the repair company will visit your premises to repair it. If you hire a trusted repair company they'll visit you according to the scheduled appointment. Some appliance repair companies work 24/7 to offer you services according to your time of convenience.
Experienced Technicians
When an appliance fails, DIY may surely cross your mind. However, due to a lack of knowledge about the appliance, you may find it difficult to assess the actual problem and repair it. On the other hand, hiring an experienced technician gives you the peace of mind that your appliance is in good hands. The technician will have expertise in repairing the appliance. He'll be able to diagnose the actual problem with the appliance and address it.
Useful Contact
You may require the services of an appliance repair company for one particular appliance. But another appliance may malfunction at a later date. It's rather cumbersome to search for a reliable appliance repair company every time you face a problem with different appliances. If you've found a reliable company once, it's better to save the contact and use it whenever required.
Safety
Handling defective electrical appliances could prove to be risky as you could get an electric shock or any other danger. A professional appliance repair technician will know all about these risks and will repair the appliance with necessary precautions.
You will not Face Problems Repeatedly
When you engage a reliable appliance repair company for your appliances, you will not face recurrent issues with your appliance. Besides, the company will provide a warranty for its services and any replacement parts used.
Appliance repair companies surely provide several benefits but you need to ensure that you select the right company to ensure that the repairs are carried out properly.
When you hire an appliance repair company make sure:
The company should be authorized.
The company should be licensed.
The technicians should have undertaken the necessary training for repairs and should have the necessary certification.
The technicians should have relevant experience.
The technicians should be insured.
The technicians should use genuine parts for repairs.
The technicians should offer a warranty for their services.
In case you are looking for appliance repair services in Barrie, one of the most reliable companies is ARS!
We have a group of professional technicians who can repair different brands of appliances.
We provide same-day services.
We attend to your problem according to the scheduled appointment.
We offer a warranty for our services.
Our services are reasonably priced.
Read our reviews on HomeStars, like us on Facebook and don't forget to share this page, just click on one of the links below.
👇