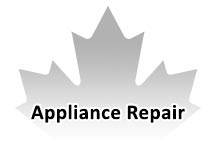 Appliance Repair Mississauga
---
While looking for appliances repair services at Mississauga would you prefer to be furnished with the bill or quotes before the work begins or after the service is complete. This is an issue that has raised a hot debate with different people taking sides; some have argued that it would be prudent knowing how much it will cost to have the refrigerator repaired or any other appliances repaired for that matter.
This has been based on the argument that some repairs might cost the owner of the device more than he or she spends while buying it. Given that there are service providers who take advantage of the situation to charge exorbitant prices it might happen that whatever they have charged as services fee might be more than what the appliance is currently worth in the market.
Proudly Serving Mississauga's Appliance Repair Needs
This is an unfortunate situation given that it makes no economic sense to pay for a repair of an item whose value is below the service fee. To avoid this kind of situation those who need washer repair or any other appliance repair for that matter are advised to always use reliable appliance repair service. Any genuine service provider will not charge his or her customer for a service fee which is more than the current value of the appliances being repaired.
He or she will instead advise them accordingly to avoid any kind of loss. The other school of thought argues that one should be billed before the repairs are started, their argument is based on the fear of being overcharged, they have a chance to negotiate the price to a level where both parties agree. At the same time, the appliance owner might not have the kind of money which is requested therefore postponing the repair until the time when the funds are available.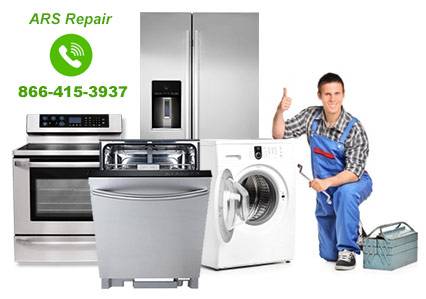 The Best Appliance Repair Mississauga Service in GTA!
If you are based in Mississauga, Canada, and you are experiencing difficulties with any of your household appliance, we are the ones to reach out to. At ARS Appliance Repair Services, we have not only the right certification but all the experience needed to troubleshoot any appliance problem that might be hinder the smooth running of the appliances of Mississauga's residents.
We repair refrigerators, freezers, ovens, dryers, and dishwashers of virtually all the popular appliance brands you can think. Why not give us a call today to fix that refrigerator of yours that won't start cooling? These are some of the services we offer to the residents of Mississauga.
Mississauga Refrigerator Repair
One of the most frequent inquiries we get at our Mississauga office is about refrigerator repairs. Thankfully, our Mississauga Appliance Repair Service is available round the clock to attend to our Mississauga customers' needs. We handle servicing and replacement of faulty refrigerators. A few of the noteworthy brands that we have handled over the years are; LG, Samsung, Fulgor Milano, Wolf, and a host of others. These are some of the problems that we can troubleshoot and fix;
Poor draining
Difficulty in defrosting
Poor cooling
Abnormal sounds
Compromised Ice dispenser
Faulty water dispenser
Faulty lights
Mississauga Range Repair
Ranges are fast gaining grounds in many homes in this Canadian city. Our Mississauga headquarters are trustworthy technicians in range repairs. If your range has developed a fault, we at the ARS Appliance Repair Mississauga organization will take pride in restoring your faulty range back to normal. Some of the range-associated problems that we can dig up and fix are;
Overheating
Chipped enamel
Faulty thermometers
Blocked flue
Oil cooker problems
Mississauga Freezer Repair
Since most adults in Mississauga belong to the working class, one cannot afford to allow his/her deep freezer go bad. Imagine all the food you may have to thrash. It is a good thing that we at ARS Appliance Repair have been certified by renowned appliance manufacturers, to help fix your defective freezer. If you are around the Mississauga area and your freezer is inactive, we can help diagnose the problem and correct it. These are the common faults that our specialists fix;
Accumulated frost on the freezer's coil
Warmth inside the freezer
Failure to freeze
Damaged lights
Increased buildup of frost
Faulty freezer door
Unusual sounds
Mississauga Dishwasher Repair
Defective dishwashers can simply leave you heartbroken and listless. Imagine having to do the pile of dishes on your sink! If your revered dishwasher is broken, you don't have to spend much to get a replacement. Our group at ARS Appliance Repair Mississauga Service will find out what is wrong with your dishwasher and get it back to normal.
The most frequent dishwasher faults we handle are;
Poor drainage
Damaged timer
Inability to fill up with water
Low water temperatures
Film-coated dishes after washing
Mississauga Oven Repair
Nothing tastes better than an oven-fresh, sumptuous, and savory baked item. If you do not want your oven to cave in mid-way into your baking session, call on our group at ARS Appliance Repair to fix it. We will either repair the oven or make replacements where necessary. The Oven-related faults that our group fix are;
Leaking of gas
Fluctuating temperatures
Damaged heating elements
Poor functioning of the burners
Failure of oven to ignite
Mississauga Dryer Repair
We can unravel any hidden culprit that might hinder the functionality of your dryer. Our foremost repair company services issues such as;
Inability of the dryer to properly dry clothes
Uneven supply of heat
Strange noise
Failure to start
Clothes coming out damp
Failure of dryer to get heated
We Also provide HVAC repair in Mississauga.
Read our reviews on HomeStars, like us on Facebook and don't forget to share this page, just click on one of the links below.
👇