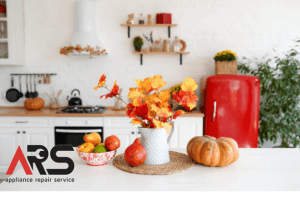 Fridge Repair is always necessary especially as the leaves turn to shades of crimson and gold, and the unmistakable aroma of autumn fills the air, our thoughts naturally drift toward the cozy comforts of the season. Fall like is a time of transition when the heat of summer gives way to the crisp, invigorating chill of September. It's a season that brings schoolbooks and Halloween costumes, pumpkin spice lattes, and hearty feasts to the forefront. And as the world outside transforms, so too do the contents of our refrigerators.
At Appliances Repair Services (ARS), we understand the pivotal role your refrigerator plays during this season of change. Whether you're in Toronto, Brampton, Barrie, or anywhere in the GTA and its surrounding regions, the fall season presents unique challenges and opportunities for your trusty fridge. In this blog, we embark on a journey to explore how your refrigerator and the joy of fall cuisine intersect. But, more than that, we're here to provide the vital information you need to keep your fridge in optimal condition throughout the season.
As we dive into this fall-themed exploration, we'll uncover the most common refrigerator problems that can throw a chill on your autumn plans. From fridges refusing to cool to stubbornly unresponsive fridge lights, we'll address these issues head-on, offering expert solutions and insightful troubleshooting tips.
In addition to these refrigerator problems, we'll also introduce you to the world of fall food storage. From the bounty of apples and pumpkins to the root vegetables ready for roasting, autumn's culinary treasures deserve to be preserved properly. You'll find practical tips and tricks to ensure your fridge keeps your fall produce fresh and ready for your next delectable creation.
But that's not all. We'll also share our expertise in refrigerator repair, spotlighting our proficiency in servicing a range of brands including Whirlpool, LG, KitchenAid, and many more. If your fridge is in need of some TLC, we've got you covered. And by the end of this blog, you'll understand why ARS is your go-to destination for all your repair needs in the GTA and surrounding areas.
So, whether you're preparing for Halloween, stocking up for school lunches, or just looking forward to cozy autumn meals, we've got the fall fridge wisdom you need. Let's embrace the season together and ensure your fridge is your trusty companion as you navigate the joys of fall. After all, as the seasons change, your fridge should be as reliable as the crisp, cool air that makes autumn special.
Are you ready to take the plunge into a world of fall freshness and reliable fridge care? Then, let's get started on this journey to make your autumn kitchen the heart of your home.
Common Fridge Repair Problems in Fall
In the symphony of autumn, your refrigerator is the conductor of your kitchen, orchestrating the freshness of fall ingredients and keeping your seasonal culinary dreams on track. However, just like the rustling leaves and changing temperatures, your fridge can sometimes go through its own seasonal shifts, presenting a few common problems that can chill the warmth of the season.
Fridge Isn't Cooling: Picture this: you've just returned from a farmer's market with a cornucopia of autumn's finest, but your fridge doesn't seem to embrace the cooler spirit of the season. It's a common problem in the fall, and it can be frustrating. Your refrigerator should be a haven for preserving perishables, but if it's not cooling properly, your fall bounty may be at risk.
Fridge Light Won't Turn On: Autumn evenings can be darker, and a well-lit fridge can make all the difference when you're hunting for ingredients for a cozy fall stew or a midnight snack. If your fridge light refuses to shine, it can be more than just an inconvenience. It can disrupt your culinary adventures and potentially lead to food wastage.
My Fridge Isn't Working: The phrase "my fridge isn't working" can encompass a multitude of issues, from cooling problems to electrical malfunctions. In the midst of the vibrant fall season, such a problem can throw a wrench into your autumn menu planning and disrupt your kitchen's rhythm.
In the following sections, we'll dive deeper into these common fridge issues, providing you with the knowledge and guidance to address them. Your fall kitchen deserves a reliable refrigerator, and we're here to help you restore the harmony of the season. So, stay tuned for expert solutions and practical tips that will keep your autumn culinary journey on the right track.
Fridge Repair Brands
As the vibrant foliage of fall begins to paint the world outside, the reliability of your refrigerator becomes even more essential. We understand that different households have different preferences, and your trusty fridge might belong to a popular brand like Whirlpool, LG, KitchenAid, or one of many others. At Appliances Repair Services (ARS), we pride ourselves on our ability to service and repair a wide range of refrigerator brands.
Here's a closer look at some of the major brands we expertly handle:
Whirlpool: A name synonymous with quality, Whirlpool refrigerators are trusted by countless homeowners for their durability and performance. Our team is well-versed in the intricacies of Whirlpool fridges, ensuring that we can address any issues that may arise.
LG: Known for their innovative designs and cutting-edge technology, LG refrigerators are a staple in many modern kitchens. Our skilled technicians are equipped to diagnose and repair LG fridges, ensuring your autumn produce remains fresh.
KitchenAid: The KitchenAid brand represents a commitment to excellence in culinary tools, and KitchenAid refrigerators are no exception. We understand the unique features of KitchenAid fridges, making us the ideal choice for their maintenance and repair.
In addition to these renowned brands, we also provide comprehensive repair services for Fisher & Paykel, GE, Frigidaire, Bosch, Haier, Kenmore, Electrolux, Hisense, Hotpoint, Kelvinator, and many more. We believe in the importance of maintaining a well-functioning refrigerator, regardless of its make or model.
Our commitment to serving the GTA and surrounding areas means that you can rely on us to ensure your fall season is marked by efficiency and reliability. With a deep understanding of a wide variety of fridge brands, you can trust us to keep your fridge humming along, preserving the flavors of autumn and the delights of the season.
Fall Food Storage Tips
The fall season brings a bounty of delicious, fresh produce, from apples ripe for picking to hearty root vegetables ready to be transformed into comforting stews. But to make the most of your autumn harvest, you need a reliable refrigerator that can preserve these treasures. In this section, we're diving into the art of fall food storage.
Optimizing Fridge Space for Fall Produce: With your refrigerator working at its best, you'll need to make the most of your available space. Consider reorganizing your fridge to accommodate the seasonal fruits and vegetables that grace your kitchen. Store apples, pears, and other fresh produce in the crisper drawers, keeping them separate to prevent premature ripening.
Setting the Right Temperature: Fall weather can be unpredictable, and maintaining the correct temperature inside your fridge is crucial. The ideal temperature for a refrigerator is between 32°F and 40°F (0°C to 4°C). Make sure your appliance is set within this range to keep your autumn goodies fresh for longer.
Avoiding Food Waste: Fall is a time of plenty, but it's also essential to avoid food waste. Regularly check your fridge for items that might be approaching their expiration date, and make a plan to use them in your recipes. This not only prevents waste but also ensures you're making the most of your fall ingredients.
School Lunch Prep: At the start of the school year, your refrigerator plays a central role in preparing lunches and snacks for your kids. A well-organized fridge can help you create nutritious and delicious meals that keep your little ones energized throughout the school day.
Holiday Food Storage: As we approach Halloween and other fall holidays, your fridge will be busier than ever with ingredients for spooky treats and festive feasts. Ensure you have ample space and a well-maintained fridge to accommodate the extra groceries and leftovers associated with the holiday celebrations.
In this section, we've explored some practical tips to make the most of your refrigerator during the fall season. By optimizing your fridge space, setting the right temperature, preventing food waste, and preparing for school lunches and holiday feasts, you can ensure that your fridge keeps your autumn ingredients at their best. But what if your refrigerator is experiencing issues that need professional attention? We'll delve deeper into that in the next section, where we discuss why ARS is the best choice for refrigerator repair.
Why Choose ARS for Fridge Repair
As the autumn leaves fall and the kitchen buzzes with the aromas of hearty meals and baked goods, your refrigerator is a vital part of the culinary orchestra. When your fridge falters, it's not just an inconvenience; it can disrupt the harmony of your fall kitchen. That's where Appliances Repair Services (ARS) steps in as your trusted partner for refrigerator repair.
So, why should you choose ARS for your repair needs? Here are some compelling reasons:
Expertise in All Major Brands: At ARS, we take pride in our comprehensive knowledge of various refrigerator brands, from the time-tested Whirlpool to the innovative LG and the precision of KitchenAid. Our skilled technicians are well-versed in the unique features and quirks of each brand, ensuring that your fridge is in good hands.
Quick Response and Efficient Service: When your refrigerator is on the fritz, time is of the essence. We understand the urgency of your situation and strive to provide a prompt response. Our technicians are equipped with the tools and expertise to diagnose and repair your fridge efficiently, minimizing downtime in your kitchen.
Customer Satisfaction: Your satisfaction is our top priority. We've built a reputation for providing high-quality service to homeowners across the GTA and its surrounding regions. Our commitment to delivering top-notch service is reflected in the positive testimonials and success stories shared by our satisfied customers.
In a season where your fridge is indispensable, you can trust ARS to ensure it operates flawlessly, preserving the bounty of fall produce and making your autumn culinary dreams come true.
Servicing the GTA and Surrounding Areas: We proudly extend our services not only to Toronto but also to the entire GTA and its neighboring regions. No matter where you reside, we're dedicated to providing the repair expertise you need to make the most of the fall season.
As autumn brings its array of holidays, school lunches, and festive feasts, it's crucial to have a reliable fridge. ARS is your partner in ensuring your refrigerator is up to the task, helping you make the most of this season of abundance.
In the final section of this blog, we'll discuss how your well-functioning fridge is essential for preparing for the fall holidays and storing the ingredients needed for your autumn feasts. Discover how a reliable fridge can elevate your culinary adventures this fall season.
Preparing for Fall Holidays
The fall season is synonymous with celebrations and holidays, from the excitement of back-to-school to the spooky thrills of Halloween. Your refrigerator plays an integral role in these moments, ensuring that your autumn festivities are marked by the flavors of the season. Here's how a well-functioning fridge can elevate your preparations for the fall holidays.
Halloween Preparation: As Halloween approaches, the kitchen becomes the epicenter of imaginative treats and creepy concoctions. Whether you're crafting spooky snacks or preserving freshly carved pumpkins, your fridge is crucial for storing ingredients and maintaining the freshness of your ghoulish delights.
Back-to-School Necessities: For parents, the start of the school year means stocking up on school lunch essentials and after-school snacks. A properly functioning fridge is essential for keeping your child's lunches fresh and wholesome, ensuring they're ready for an energized day of learning.
Autumn Feasts: Fall holidays bring family and friends together for memorable feasts. A well-organized and efficient fridge allows you to store the ingredients for your Thanksgiving or other autumn celebrations, keeping them fresh and ready for your culinary masterpieces.
From Halloween-themed treats to back-to-school necessities and the ingredients for your autumn feasts, your refrigerator ensures that the flavors of the season are preserved and ready to delight your loved ones.
With the right maintenance, you can rest assured that your appliance is up to the task of making your fall holidays and gatherings even more special. We invite you to consider ARS as your trusted partner in refrigerator repair, helping you make the most of the season's festivities.
Conclusion
As the final leaves fall and autumn's embrace tightens, it's clear that your refrigerator is a reliable companion on your journey through this vibrant season. It's a time for crisp breezes, schoolbooks, pumpkin spice lattes, and the cozy warmth of your kitchen. Fall is also a time for your refrigerator to shine, as it preserves the flavors and freshness of your autumn culinary creations.
At Appliances Repair Services (ARS), we're dedicated to ensuring that your fridge remains in top form, serving you faithfully through the fall and beyond. Whether you're in the bustling streets of Toronto, the heart of Brampton, the charm of Barrie, or any corner of the GTA and its surrounding regions, we're here to address your refrigerator repair needs.
From the common issues of a fridge not cooling and a stubbornly dark fridge interior to the special challenges of fall food storage, we've explored the essentials you need to maintain your fridge. We've also highlighted our expertise in servicing a range of top refrigerator brands, ensuring that your appliance receives the expert attention it deserves.
As the leaves change color and holidays draw near, we've discussed the importance of a well-functioning fridge. Halloween preparations, school lunches, and autumn feasts all rely on the reliability of your refrigerator, making it an essential part of the fall experience.
We want to express our gratitude for taking this journey with us through the world of refrigerator repair and fall food storage. Our hope is that this blog not only provides you with valuable insights but also inspires confidence in ARS as your trusted partner in appliance repair
The autumn season is a time of transformation, and just like the world outside, your fridge should transition seamlessly, preserving the abundance and flavors of fall. So, whether you're gearing up for Halloween, planning school lunches, or preparing for festive feasts, your well-functioning fridge is the key to a joyful fall kitchen.
Thank you for choosing ARS as your trusted appliance repair service in the GTA and surrounding areas. As we conclude our journey through this fall-inspired blog, remember that your refrigerator is more than just a kitchen appliance – it's a dependable friend during this special season of change and celebration.
Are you ready to ensure your refrigerator is up to the task of preserving your autumn delights? Reach out to ARS, and let us keep your fall kitchen fresh and ready for whatever the season brings.