Every home has a different need set like all individuals. Buying the right electronics which fits in well in the designed area is as important as buying the right outfit for yourself. While purchasing a refrigerator, many families get confused and takes ages to make that purchase decision. ARS bring you a simple guide on buying a refrigerator.
Let us consider the above in these simple ways:
Look for Kitchen space
Features in your fridge
Outlook of the refrigerator
Required storage capacity
Choose your door style
The after-service availability in your area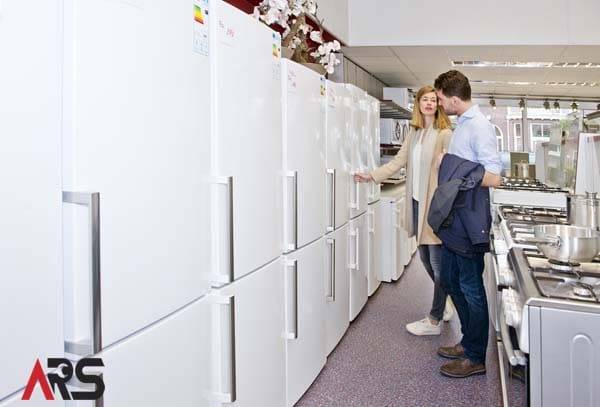 Look for Kitchen Space:
We are sure you don't want to out do that, right? So yeah, measure the size that you will want the refrigerator to take up in your kitchen space. If the kitchen area is unable to accommodate your desired refrigerator, you may be wanting to use up the dining or living room area. Choose the right space and measure it right before going for a purchase.
Refrigerators are available with several features being updated each year brining more comforts to the users. There is specialised storage like infinity slide shelves, platter pockets to store eatables like pizza boxes, ice and water dispensers. Features also like dual cooling to store frozen items might be on the check list before you purchase a fridge. You also should check out How you maintain your refrigerator as this also plays a role in the decision.
Outlook of the Refrigerator
White or Grey? May be let's try pink this time. It will add colour to the kitchen area.
Well, we all have been there while choosing the colour and finish of the fridge, in fact while purchasing all kind of appliances almost. There are variants available like fingerprint resistant stainless steel or a finish that easily wipes clean. Consider the choices of all members in your family as this tall box is going to stay in your house for a pretty long time.
Required Storage Capacity
There can be families with just two of you & there can be families with a full-size party number. While buying a refrigerator, look for what capacity to shop for. This doesn't limit only to the exterior but also the interiors. It depends upon how much grocery is being bought into the house and what kind of storage is required. Like the drawers or the storage areas where reach is easy.
Most of the families definitely fall into an argument while making this purchase decision. Agree? Oh! Continue smiling then! The market is now offering a wide range of outlook styles that it gets tough to choose from many. There are French door refrigerators side by side open doors, Top & Bottom Freezer refrigerators & undercounter fridges. Take your time, assess your need and body movement comfort of the users and decided upon the right outlook for your refrigerator.
The After-Service availability
The most important of all the above decision points would be the after-sale service of the appliance in your living location. A refrigerator like a few other electrical appliances belong to the list of needful electrical appliance. If your refrigerator is not working, storage of all those items you spend time & money shopping and brining them in goes for no good. Hence, it is necessary that you have a service repair company available to fix it at the earliest and get it going.
The other equally important decision-making factors like the budget, energy efficiency, brand reliability, style of the handle, noise level, durability, warranty, the type of refrigerant also influences the type, style and model that fits well within a family household.
The benefit of contacting Appliance Repair and Installation Services is that you get a free quotation online for refrigerator repair, fast and effective service guaranteed at reasonable pricing with best of quality. ARS tries all possible ways to provide same day service to all customers with an excellent proven record of follow up services. If your refrigerator is not functioning properly, give us a call now and we will be at your door step any moment.