The beauty that you'd like to maintain outside this heavy box, the same should also be taken care of inside your refrigerator. A little maintenance can keep it going a long way and make it less messy for you as well.
We have listed a few helpful tips to keep your fridge going a long way. If there is trouble with your fridge or is not working properly, you may locate and call the nearest service repair company. ARS company is a great place to get all your appliances repaired and serviced in time.
Quick checks to keep your refrigerator happy:
Look to your door seals:
Check the door seals to identify it is loose, the cool air slips out, wasting energy which implies that the fridge has to work excessively. To avoid this, it is a good idea to keep the seals free from any fallen food or residue.
How? You can use a toothbrush and a mixture of water with baking soda.
If there is dust hovering over the coils, the refrigerator will not function smoothly. So, it's always good to pull the machine from the wall and clean the coils of the refrigerator depending upon the model you owe. To clean the coils located underneath, make sure to remove the grill at the bottom front of the fridge.
How? Unplug the refrigerator, use a vacuum cleaner and clean the coil.
There is a concept of thermal mass, that applies to refrigerators. These machines demand storage of more stuff inside to maintain low temperatures.
How? If the fridge is too large for you or your family, just store a few bottles of water.
If your fridge has a water dispenser or ice maker, please ensure to change the water filter regularly. It might otherwise result in dirtier water.
When? Usually every six months or as recommended by the brand's manual.
It is suggested to keep the freezer vents unobstructed. Even if your freezer is stuffed with several food packages, make sure to clear them away from the vent as these tiny vents allow air to circulate in the freezer.
How? Keep your freezer up to three-quarters full to ensure retention of cold air. Don't over-pack it.
Keep the refrigerator between 37 and 40 degrees Fahrenheit and the freezer between 0 – 10 degrees. This will ensure longevity by allowing the fridge to run efficiently.
Check for the level of your refrigerator that it should not be imbalanced. This could result in doors not closing well, resulting in energy loss.
How? You may use a carpenter's level to check for the level and adjust it accordingly.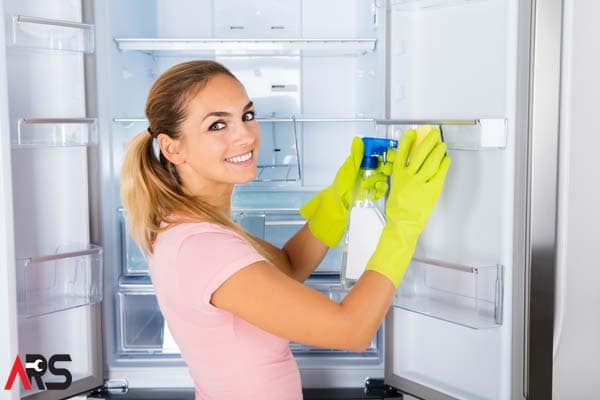 Tips to keep the fridge clean:
We know that one tip can never suffice. It always is a bundle of tips required. Check these easy tips to organise and keep the refrigerator clean.
Instead of putting off the vegetables, eggs or small items in the racks, use small baskets to keep the food separate keeping it clean and clear.
Agree or not, there are a few things in your fridge even at this very moment which are not required or can be placed in those garbage bins to see off. So why wait? Clear that clutter.
Ensure not to leave the fruits and/or vegetables in closed plastic bags. This way can spoil the product faster. Just unbag them or place them in the organising baskets.
Make sure to store any food items in storage containers with lids and not the plates directly. This will ensure reduction of any spills or any mess than can happen. Same applies to cups or glasses as well.
The easiest was to save time, save mess and to organize is to keep a certain type of food in a designated area, keeping your fridge neater and easy to use.
These tiny stationery from your office can be a great help in kitchen well preventing any spills or closing any accidental tear off on any packets.
Any electronic appliance usually faces repairs in it's life time. But how well you maintain it results in the frequency and time of repairs. If the fridge is facing issues and not working, the items stored inside the fridge can spoil and the machine can also produce bad smell at a point.
Give us a call for a free quotation, fast and effective service ensured. ARS company tries to provide same day service at reasonable pricing with highly qualified staff to serve the purpose.