When dad is tired, when mom wants some gossip, when kids be entertained, when grandparents want their soul of spirituality and peace, they all come to that comfy couch and sit for hours in front of a Television. Imagine a life without a TV in this generation! This is an electronic appliance which can get all family members to sit together in one room, laugh, talk and spend some quality time together.
But being an electronic appliance, there are all possibilities that at a particular time it causes trouble and has to be serviced or repaired. ARS is introducing you to a few repair tips which can help you while fixing a television. ARS is amongst the best TV Repairs in Toronto and GTA offering reasonable and immediate solutions to your appliances.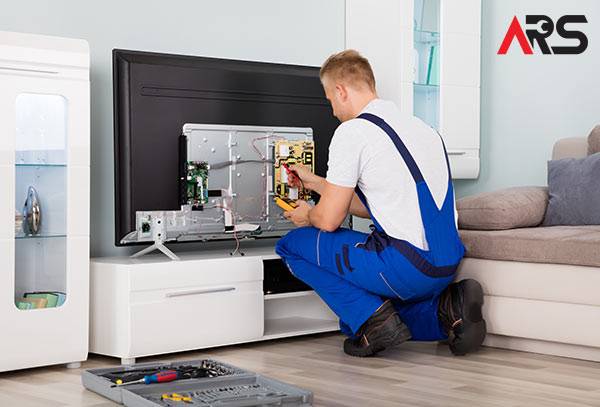 TV REPAIR TIPS:
There are a few basic checks that you can do before contacting a repair company.
Check TV Basics:
Before picking your phone, ringing a tv repair company and getting into unnecessary services, make sure that the plugs are connected well, the remote has working batteries and the TV is not on mute mode. Check if all settings are properly selected.
Cable Service Connection:
It is a good idea to check the coaxial cable which connects the cable service to the TV. If there issues, try to check the TV without the cable service connection. By doing this, you'll be able to roughly trace out if the issue is with the cable box or the modem.
Wire Checks:
Make sure to connect all wires correctly in their allotted slots and never force a wire into any spot. This might damage the connector or the slot you are trying to fit the wire into. Check to be sure that all parts have been aligned rightly and the plastic caps have been removed.
Once you make sure all the above is well fixed but the Television is not responding, you can get in touch with one of the nearest TV repair service company in your area and schedule an appointment with a TV repair technician.
Care Tips for Television:
Keep it light. It is not a table stand and hence avoid putting any heavy objects on the top of your television.
Keep it neat and clean, and don't let dust settle on the TV. Wipe it off regularly with a soft cotton cloth. This will ensure that the internal components of the TV are not affected, helping in limiting repairs.
Make sure to switch off the Television while not watching or before you step out of the home. There are chances that the voltage fluctuates causing damage to the TV while not watching it.
It is a good suggestion to use a stabilizer or surge protector that can handle the voltage or power fluctuations.
For a good lifespan and picture quality of a television, put the brightness and contrast settings on optimal level.
Avoid keeping a TV in a closed room with no ventilation because the semiconducting TV components usually produce hear when electricity is passed. Hence an airy room can help the TV breath better.
If there are issues that your TV is facing and requires repair, get in touch with a certified TV repair company like ARS. Give details of the problem and get the best suggestions and repair services. The group of ARS have expert technicians with knowledgeable skills and can identify the faults quick and easy. Along with TV repair services, ARS also offers service repairs to all other electronic appliances at your home. For any issues or quick fixes, contact us for the best repair services in Toronto & GTA