The perfect Instagram photos, tummy-full snacks, and long chit-chats. After an amazing night spent with your family or friends cherishing those favourite burger and steak meals, all that is left now is a messy dirty barbecue.
Those carbon deposits on the grills and interiors does not only make it ugly but also forms unhealthy bacteria. Don't frown! ARS brings you simple, quick and handy tips to clean the BBQ.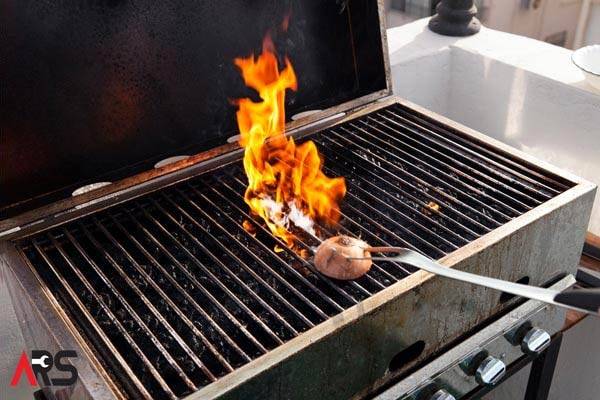 Before We Get Into the Tips, Take Note of the Steps Involved in Any Cleaning Process With BBQs:
Step 1 – Remove and clean the grates
Remove the cool grates and brush off as much residue that you can with a scrubber. Soak them in a solution of liquid dish soap, like Sunlight, mixed in hot water. Soak them for 15-30 minutes, if they are still dirty, you may soak them again with some more hot water. Remove and rinse the grates well and let them dry.
Step 2 – Clean the grill's interior
Once you remove the grates, clean the interiors with any brush or scrub pads. Make sure to empty the ash catcher. Clean the pan in warm soapy water as well. Wipe off dry.
Step 3 – Clean the grill's exterior
Make a solution of water and liquid soap and clean the exterior of the BBQ, the handle, side trays and if there are any bottom doors. You may use a sponge pad or a cloth to clean them sparkling new.
BBQ Cleaning can take a little time of yours, but it is important to keep it neat before and after using it every time.
Use these easy home remedies to clean your BBQ:
1. Steam Cleaning (Without a Steam Cleaner)
When all that food in your BBQ is over and it starts to cool down, cover the grill with water-soaked newspaper and then close the lid of the BBQ. The steam inside will help loosen the leftovers and residues and you may then easily wipe it off. For a good steam clean, leave the grill shut for ~30 minutes.
2. Use an Onion
When the BBQ starts cooling down, just fork an onion and rub it over the hot grill bars. This will help to remove any food that is stuck on it and makes it easier to clean the rest.
3. Vinegar
Another easy kitchen remedy is Vinegar. It's as simple as mixing 500ml of vinegar to the same amount of water in a spray can. You can then just spray this solution onto the grill and leave it for few minutes. Later, scrub the grill and its interior to get that sparkling new BBQ back.
4. Baking Soda
This might sound to you the easiest of hacks. Sprinkle some baking soda all over the grill and the interiors. Sponge the grill later, until all baking soda vanishes.
5. Grill Cleaning Formulas
Plentifully available in the market. Just follow the instructions on the cleaner, and the spark will be alive again on your BBQ. Make sure to avoid heavy scented or harmful formula cleaners. Purchase specialized BBQ cleaners which are safe to use and doesn't harm health or change the taste of food.
6. Try Hot Water
If all the above does not work for that hard BBQ of yours, scrub the grill with hot, soapy water. This will loosen and remove all the leftovers.
General Maintenance Tips:
Brush the grills after every use of BBQ, a long-handled wire brush can always help.
Clean your BBQ every few months, depending upon usage.
Conduct a complete clean-up of BBQ at least once per year.
Make sure to clean the cooking surface before and after every BBQ use.
Cover the grill after every use.
Tip:
Invest in a good weather-resistant BBQ cover. Always keep it covered when not using the BBQ.
Caution:
When you steam, it can cause scalding. So make sure to turn off the BBQ burner and wait for a few minutes before you open the lid. Keep children away to avoid any issues or unforeseen damages that may arrive.
For Repairs:
Like all other electronic appliances, every machine at some point will requires repair. You can contact us at ARS for BBQ repair, the Best Appliances Repair Service in Toronto and GTA area. We repair all major brands and strive to provide the best and same day service with our most qualified and certified staff.