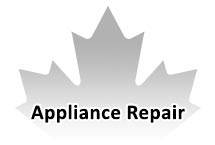 Appliance Repair Winnipeg
---
Why choose Winnipeg Appliance Repair Service?
We are proud to be one of the highest reviewed appliance repair companies in Winnipeg. We are known for our outstanding service and are happy to provide everything to fulfill our customer's needs. We truly recommend you try our service during your next unexpected appliance malfunction.
Our rates are comparable to most other local appliance repair companies in Winnipeg. Why risk the integrity of your expensive appliances with cheap repairs? Get it right done the first time with a quality and long lasting repair solution from one of our expert technicians.
Our highly trained appliance repair techs are local in the Winnipeg area and qualified to fix all major home appliances. We repair refrigerators, washers, dryers, ovens, stoves, and more. Regardless of appliance brand or model number, one of our skilled technicians will be happy to help. We only use the highest quality name brand parts to ensure a repair that will last.
We understand that your schedule may be busy and are happy to accommodate. Emergency calls and short notice appointments are OK! Odds are we have a technician in the Winnipeg area near you and can get you the assistance you require in no time. Our in home service is top rated for being prompt and on time.
Don't hesitate any further, let us get your broken appliance repaired today. Please contact us at your earliest convenience and we will be happy to schedule an appointment at a time that works best. Honesty, integrity and exemplary service are the only way we treat our highly valued clients. We believe that word-of-mouth referrals and repeat business are the keys to success. We look forward to your business!
Reliable Service: Here at Winnipeg Appliance Repair Service, we are known for our prompt and timely service. Book your appointments with confidence.
Solid Value: Our pricing is competitive and trustworthy. Don't gamble with cheap service on your next appliance malfunction, trust our experts to ensure a quality repair.
Expert Technicians: Our group of friendly technicians is certified for repairing all major appliance brands. We specialize in providing expert service for all of the most common home appliances.
Warranty Available: Our expert work is backed by a warranty to ensure your peace of mind with your next repair. If anything goes wrong we can have it covered to fix promptly.
Satisfaction Guarantee: We strive to provide our customers with the best appliance repair services in Winnipeg. We are available every step of your repair to make sure you are completely satisfied with our service. Please check out our reviews page to see what our previous clients are saying.
Refrigerator Repair in Winnipeg
Is your fridge not as cold as it should be? Is the ice maker no longer making ice? Do you have a puddle of water forming at the base of your refrigerator?
Winnipeg Appliance Repair Service is Winnipeg's first choice for refrigerator repair. We repair all major brands including GE refrigerators, Kenmore refrigerators, Maytag refrigerators, and many more. We use the highest quality factory made refrigerator repair parts to ensure a long lasting fix. We can usually fix most refrigerators within one day. You are just a phone call away from having your fridge running as good as new!
Refrigerator Repair Tip #1: Try to keep your coils clean. An annual blowout is sufficient to ensure long lasting operation.
Refrigerator Repair Tip #2: Never blast your temperature controls to extremes on your refrigerator. This can ruin your food and your motor. We suggest to keep it at medium settings to start and work your way up or down from that temperature.
Refrigerator Repair Tip #3: Leave it to experts when it comes to fixing a refrigerator. They are not simple appliances and contain dangerous chemicals like Freon. It takes a skilled technician like our Winnipeg Appliance Repair Service techs to properly repair any appliance.
Stop living with a broken and noisy refrigerator. We are happy to provide same day repairs on all major brands of refrigerators and freezers. We also repair ice makers.
We value your time and want to ensure a prompt service. Please call us today for guaranteed service and quality Refrigerator repairs.
Stove & Oven Repair in Winnipeg
Internal oven components are constantly under pressure from high amounts of heat. This can and will eventually burn out internal components including your computer board, high limit thermostat and more. Save yourself some money when it comes to ovens and repair them professionally. It's worth it in the long run.
Winnipeg Appliance Repair Service is here to help with your next Stove or Oven Repair. We are pleased to provide same day service in most situations and will happily work around your busy schedule. We will have you cooking with gas in no time!
Common Oven and Stove Repair Issues:
Oven is on but won't heat up
Gas stove top will not light
Temperatures not proper
Food doesn't cook right in oven – Burns or won't cook at all
Gas burner stops working
Electric burner is out
Clock or timer is broken or burnt out
Touch pad or control buttons no longer working
Broil or Bake element needs replacing
Give the experts a call at Winnipeg Appliance Repair Service and you will be serving your meals like normal again. We understand having your kitchen appliance malfunction is a great frustration and we are here to help you get back on track as soon as possible.
Dishwasher Repair in Winnipeg
Your home or commercial dishwasher no doubt play an integral role in your household or business. A broken dishwasher is a big inconvenience because it might leave you without a way to properly clean your dishes. Regular and immediate repair of your dishwasher helps ensure convenience within your home, durability for your dishwasher and cost effectiveness regarding maintenance cost. Therefore, as soon as you notice a problem with your appliance, you should seek help from our professional service technicians.
Facts You Should Know About Dishwasher Repairs
Dishwashers from major brands usually last but at some point, they develop faults that call for repairs same as all other home appliances. Your dishwasher may develop leakages, wear, tear, and other problems. Always monitor your dishwasher and look out for error warnings during usage of the appliance. Noting a problem soon enough helps you save the machine from more complication or total breakdown.
Our service engineers know the importance of responding promptly to a repair request which is why when you contact us; we always answer calls and make arrangements for services as soon as possible.
If you would like to get a quote from us for your dishwasher repair or routine maintenance services, please do not hesitate to contact us. Our group of professional field service engineers will respond promptly and inspect your dishwasher, run diagnostics and perform quality repairs on your appliance. Our engineers are well trained, experienced, polite, efficient and very professional.
Standard Dishwasher Faults:
Water not draining
No water flowing into the washing appliance
Stuck water impeller
Leakage from underneath the dishwasher
Failure to start
Soap dispenser door not latching
Fairly Priced Dishwasher Repairs
At Winnipeg Appliance Repair Service we pride ourselves in providing swift, fairly priced, high quality and practical dishwasher and home appliances repair services. We offer a guarantee for all spare parts and labor. All service parts used in repairs are always genuine and durable.
To get a quote for your dishwasher repair, installation and maintenance in Winnipeg and surrounding areas, please give us a call today.
Microwave Repair in Winnipeg
Microwave ovens are essential to our ready-to-eat foods. Its purpose is to quicken the heating process of our food just like thawing. This kitchen device is called as the miracle kitchen equipment due to its fast-paced food preparation process. In addition, it produces heat through the release of radiation and that's why microwave ovens produce a quick speed of heating.
Due to the complexity of microwave ovens, it is difficult to repair and fix all by yourself once your microwave oven experiences unexpected troubles. This kitchen device requires full care and attention because the damage microwave oven makes can be dangerous. But our repairmen at Winnipeg Appliance Repair Service are skillful and can manage to repair microwave ovens smoothly and successfully.
Some of the common Microwave problems that we can solve are:
The microwave plate or turntable is not functioning
Microwave oven has an extreme noise and vibration
Microwave oven is dead
Microwave oven light is not working
Microwave oven is not producing heat
The radiation that microwave oven releases is hazardous so, it is not really advisable to expose yourself to it and this is one of the reasons why it is not recommended to repair your microwave oven without seeking for a professional help. Once your microwave oven experiences troubles whether common or intensive, seek professional assistance right away to prevent any dangerous things to happen.
We have highly-skilled and trained technicians here at Winnipeg Appliance Repair Service that can successfully repair your damaged microwave oven. We are trustworthy and we do offer repair services at a reasonable price so, call us right away if you need some troubleshooting to your damaged microwave oven.
Washing Machine Repair in Winnipeg
Washers are a very important home appliances. If you use it regularly, then you do know how important it is for us. A poorly functioning washer can make you feel very bad. None likes to see dirty clothes in his house; it is very frustrating. Take actions before things get worse. Also, it is a not cost-effective idea to keep your faulty washer in your house for a long time as you need to pay extra money to the laundry. Common washer problems include a noisy machine, no spinning, water leaks, washer moving problem, etc. Make a call and tell about your problem. Surely, you will get a quick solution to your problem. Your washer will be up and running in no time at all.
Common Washing Machine Repair Problems:
Washer will not spin
Washing machine does not drain and floods
The machine stops working in the middle of a cycle, typically at the same point repetitively
Washer has no power
Torn bellow (large gasket to seal door opening)
Error or fault codes are being displayed
Not enough water fills into washer to do laundry
Same day service is usually available for most makes and models of top load and front load washers. Winnipeg Appliance Repair Service excels at doing the repair when the customer wants.
We are happy to repair all major brands of dryers and washers to help you get back to doing laundry sooner. Some major brands we service include Frigidaire, Magic Chef, Hotpoint, Admiral, Estate, Norge, White Westinghouse and Roper.
Dryer Repair in Winnipeg
Whether you're looking to repair a broken dryer or maintenance. Winnipeg Appliance Repair Service can be of great help.
Winnipeg Appliance Repair Service is a one stop dryer repair company in Winnipeg. We repair all dryer brands. We not only provide you with excellent customer service, but we also give you cost effective service.
All our technicians are employed in-house and we, therefore, promise to deliver excellent service. The technicians are highly trained and licensed and are guaranteed to help fix any dryer problem. Regular inspections and professional maintenance by our technical staff of Winnipeg Appliance Repair Service are very important both for your safety and their good operation.
All our dryer repairs come with three-month parts and labor warranty. Most of the dryer repairs and services are done on site by our dryer repair technicians. All our dryer repair and dryer servicing are carried out with OEM parts.
Some of the common dryer problems that we can solve are:
The dryer won't start
The dryer stops turning during cycle
The dryer won't turn at all
The dryer takes too long
The dryer is too hot
The dryer won't stop
The dryer doesn't heat
The dryer trips breaker
The dryer makes noise
Winnipeg Appliance Repair Service is the best choice for all dryer repairs and service. We will always guarantee the best quality repairs and we offer a warranty on all the repairs.
We have a reputation for integrity, consistency, and reliability. We know that you expect the highest quality standards from Winnipeg Appliance Repair Service. We offer excellent and timely service that has very competitive pricing. With our technicians' years of experience in all dryer brands, we can assure you that your dryer will be back in top condition in no time.
Please call us today for guaranteed service and quality dryer repairs.
Read our reviews on HomeStars, like us on Facebook and don't forget to share this page, just click on one of the links below.
👇