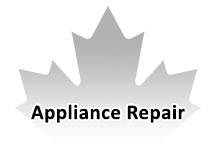 Appliance Repair Garden District. In the very diverse Garden District of Toronto, where history meets modernity, you need reliable appliance repair services that understand the unique character of your community. Welcome to "Garden District Appliance Repair," your go-to solution for all your appliance repair needs.
Why Choose Appliance Repair Garden District?
Our commitment to the Garden District and its residents is unwavering. Here's why you should trust us with your appliance repair needs:
Community-Focused
We are an integral part of the Garden District community, dedicated to ensuring your appliances function seamlessly to support your unique lifestyle.
Fast and Efficient
We understand that your time is valuable. Our prompt service ensures that your appliances are up and running in no time, allowing you to enjoy life in this vibrant neighbourhood.
Diverse Expertise
From high-end appliances in Victorian villas to modern condo equipment, we have the expertise to handle a wide range of appliances that reflect the Garden District's diverse housing options.
Round-the-Clock Assistance
Appliance issues can arise at any hour. That's why we offer 24/7 emergency services to meet your needs, no matter when a problem occurs.
Comprehensive Repairs: Appliance Repair Garden District 
At Garden District Appliances Repair Service, we specialize in servicing an extensive range of household and commercial appliances, including:
Stove

Electric stove not turning on

Electric coils failing to heat up

Inability to adjust burner temperature

Indicator light not functioning

Dryer

Dryer not turning on

Noisy dryer

Clothes coming out wrinkled

Excessive heat

Prolonged drying time

Dishwasher

Ineffective dish cleaning

Dishwasher refusing to start

Frequent water fill-ups

Water leakage issues

Unusual noises

Oven

Incorrect oven temperature

Oven failing to turn on

Oven light not working

Food burning in the oven

Lack of heat generation

Refrigerator

Refrigerator not cooling despite the light being on

Cooling issues with interior light off

Defrost problems

Refrigerator water leakages

Freezer

Freezer not running

Excessive freezer noise

Interior lights malfunctioning

Freezer not maintaining a low temperature
Brands We Repair: Appliance Repair Garden District 
We have expertise in repairing various brands, including Admiral, Jenn-Air, Thermador, Frigidaire, Samsung, LG, Viking, Amana, and Dacor.
Historical Roots of the Garden District
The Garden District derives its name from Allan Gardens, an indoor botanical garden located at the intersection of Carlton and Jarvis Streets. The neighbourhood's rich history is a blend of two distinct areas:
Western Portion: This area, from Yonge Street to Jarvis Street, was initially developed during Toronto's incorporation as a city in 1834. It houses historic institutions like St. Michael's Roman Catholic Cathedral, Massey Hall, the Elgin and Winter Garden Theatres, and many more. The Ryerson Model School, now part of Toronto Metropolitan University (TMU), is a testament to the district's connection to education and culture.
A Mosaic of Diversity
The Garden District is a melting pot of housing options, including million-dollar condos, renovated historic homes, row houses, co-operatives, subsidized units, and various hostels and shelters. The community is diverse, and our appliance repair service caters to this wide range of needs.
The Garden District's Community Strength
The Garden District hosts a significant Francophone presence due to its proximity to French-language institutions such as Paroisse Sacré Cœur, Le Collège français, and École élémentaire Gabrielle-Roy. The McGill-Granby Village Resident's Association represents the residents of the area around these institutions.
In addition, the Garden District is home to various institutions that cater to the Aboriginal community, emphasizing the neighbourhood's inclusivity and multiculturalism.
Experience Excellence with Appliance Repair Garden District
Embrace quality service, efficiency, and a deep understanding of your unique neighbourhood with "Garden District Appliance Repair." We're here to ensure your appliances are always in bloom and your life in the Garden District is hassle-free. Reach out to us, and we'll keep your appliances in perfect working order, just like your vibrant neighbourhood.
Contact us for all your appliance repair needs.