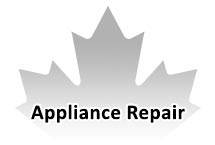 Appliance Repair Danforth! To the east of the Toronto center, you will find the famous Danforth. Where the seamless operation of your appliances is not just a convenience – it's a necessity. Whether you're managing a bustling restaurant, running a local shop, or ensuring your household functions smoothly, appliances are the unsung heroes of your daily life. However, when these vital tools face malfunctions, it can disrupt your routine. This is where ARS Danforth Appliance Repair Services emerges as your reliable partner for all your appliance repair needs.
Why Opt for Appliance Repair Danforth?
Danforth Appliance Repair isn't just another service provider; we're your local experts dedicated to ensuring your appliances work seamlessly. We bring years of experience, a track record of excellence, and a commitment to top-notch repair services to the heart of Danforth. We understand that when appliances break down, you need a fast and reliable solution. Our skilled technicians are well-equipped to address your appliance issues efficiently and effectively.
Around-the-Clock Service
Appliance problems don't follow a set schedule. That's why our services are available 24/7, with no extra charges for off-hours or holidays. We recognize the urgency of these situations and are ready to respond promptly. Whether it's a weekday, weekend, or holiday, our team is dedicated to solving your appliance woes without delay.
Appliances We Repair at Appliance Repair Danforth.
Danforth Appliance Repair Service specializes in repairing a wide array of household and business appliances, including:
Stove

Electric stove not turning on

Electric coils failing to heat up

Inability to adjust burner temperature

Indicator light not functioning

Dryer

Dryer not turning on

Noisy dryer

Clothes coming out wrinkled

Excessive heat

Prolonged drying time

Dishwasher

Ineffective dish cleaning

Dishwasher refusing to start

Frequent water fill-ups

Water leakage issues

Unusual noises

Oven

Incorrect oven temperature

Oven failing to turn on

Oven light not working

Food burning in the oven

Lack of heat generation

Refrigerator

Refrigerator not cooling despite the light being on

Cooling issues with interior light off

Defrost problems

Refrigerator water leakages

Freezer

Freezer not running

Excessive freezer noise

Interior lights malfunctioning

Freezer not maintaining a low temperature
Brands We Repair at Appliance Repair Danforth
We have expertise in repairing various brands, including Admiral, Jenn-Air, Thermador, Frigidaire, Samsung, LG, Viking, Amana, and Dacor.
Our expertise extends to repairing appliances from various brands, ensuring that your specific appliance receives the care it deserves. Our technicians have an in-depth understanding of different brands, guaranteeing efficient and reliable repairs.
The enchanting neighborhood known as Danforth, affectionately referred to as Greektown, is a vibrant and culturally rich district that captivates the soul with its unique charm and warm ambiance. This lively community, centered along Danforth Avenue, is not just a neighborhood; it's a mosaic of diverse experiences, a celebration of heritage, and a testament to the enduring spirit of the people who call it home.
Danforth is renowned for its rich Greek heritage, evident in the lively streets adorned with Mediterranean-inspired eateries, quaint bakeries serving up delectable pastries, and bustling markets offering a kaleidoscope of spices and ingredients. Yet, while Greek culture is an intrinsic part of its identity, Danforth is a kaleidoscope of diversity that welcomes all with open arms.
It's a place where a wide array of cultures converge, where storefronts boast everything from Mediterranean delights to international cuisine, vintage boutiques to modern shops, and cozy coffee houses to lively bars. As the sun sets, the neighborhood comes alive with the hum of conversations, music, and the clinking of glasses, exuding a vibrant nightlife that draws people from all corners of the city.
But Danforth is more than just its bustling streets and delectable culinary offerings. It's also a place of deep-rooted community values and family-friendly vibes. The area is adorned with charming parks, welcoming green spaces, and community centers that offer a diverse range of activities and events throughout the year. The Danforth Music Hall, a historic venue, provides a stage for unforgettable live performances and entertainment, adding to the neighborhood's cultural tapestry.
However, in the hustle and bustle of this lively district, the reliability of household appliances can sometimes be taken for granted. When the unexpected happens, and your refrigerator or dishwasher decides to go on a sabbatical, it's good to know that there's a dedicated partner right around the corner.
At Danforth Appliance Repair, we understand the importance of keeping your home running smoothly. Our team of skilled and licensed technicians is committed to providing top-notch service, ensuring that your appliances are up and running as quickly as possible. Don't let an appliance hiccup dampen the vibrant spirit of Danforth. Please contact us for appliance repair, and let us help you keep your household humming along in this captivating neighborhood.
When it comes to appliance repair in Danforth, make the intelligent choice by selecting a licensed and accredited service provider like ARS Appliance Repair Services. We maintain rigorous industry standards to ensure your appliances operate at peak efficiency, and we're your trusted partner in keeping your daily life or business operations running smoothly.
Contact us today for all your Danforth appliance repair needs. We're here to provide expert assistance and prompt solutions for your appliance issues.