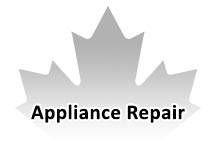 Looking for Appliance Repair Chaplin Estates? In the prestigious southwest corner of the bustling Yonge and Eglinton area in Toronto, Chaplin Estates is a neighborhood renowned for its elegance and charm. This upscale enclave is situated to the west of Yonge Street and is embraced by Eglinton Avenue to the north, and Avenue Road to the west. To the south, it's bordered by the picturesque Chaplin Crescent, running parallel to the former Beltline Railway line, which has transformed into the Beltline Trail – a scenic pathway for walking and biking enthusiasts.
Why Choose Us for Appliance Repair Chaplin Estates?
In Chaplin Estates, where the pursuit of perfection is a way of life, ensuring your household appliances operate seamlessly is essential. Whether you're managing a luxurious residence or overseeing a high-end business, the role of these appliances in your daily routines cannot be understated. However, as in any opulent community, appliance malfunctions can be a source of inconvenience. This is where Chaplin Estates Appliances Repair Service (ARS) comes into play.
Available Around the Clock
We recognize that appliance issues can occur at any time, disregarding traditional business hours. Therefore, our services are available 24/7, with no additional costs for after-hours service. Whether it's a regular weekday, a weekend, or even a holiday, our dedicated team of technicians is always ready to promptly address your appliance concerns.
What We Repair at Appliance Repair Chaplin Estates
At Chaplin Estates Appliances Repair Service, we specialize in repairing a wide range of household and business appliances, including:
Stove

Electric stove not turning on

Electric coils failing to heat up

Inability to adjust burner temperature

Indicator light not functioning

Dryer

Dryer not turning on

Noisy dryer

Clothes coming out wrinkled

Excessive heat

Prolonged drying time

Dishwasher

Ineffective dish cleaning

Dishwasher refusing to start

Frequent water fill-ups

Water leakage issues

Unusual noises

Oven

Incorrect oven temperature

Oven failing to turn on

Oven light not working

Food burning in the oven

Lack of heat generation

Refrigerator

Refrigerator not cooling despite the light being on

Cooling issues with interior light off

Defrost problems

Refrigerator water leakages

Freezer

Freezer not running

Excessive freezer noise

Interior lights malfunctioning

Freezer not maintaining a low temperature
Brands We Repair 
We have expertise in repairing various brands, including Admiral, Jenn-Air, Thermador, Frigidaire, Samsung, LG, Viking, Amana, and Dacor.
Don't wait for appliance problems to escalate. If you're a resident of Chaplin Estates and encounter any of these issues, don't hesitate to get in touch with us immediately. We'll swiftly diagnose the problem and provide an effective solution.
When it comes to appliance repair in Chaplin Estates, make the smart choice by opting for a licensed and accredited service provider like ARS Appliance Repair Services. We guarantee top-notch service that adheres to industry standards, ensuring your appliances operate at peak efficiency.
Contact us today for all your appliance repair needs in Chaplin Estates. 
Chaplin Estates embodies a distinct sense of charm and community that is unparalleled. This vibrant neighborhood is a fusion of elegance, diverse traditions, and warm-hearted residents who take immense pride in their corner of the city. Chaplin Estates is where tree-lined streets, picturesque parks, and a myriad of locally-owned businesses converge to create a unique tapestry of urban living.
We, at ARS Appliances Repair Service, are thrilled to become a part of this exceptional community, serving as your trusted appliance repair company. Our team of skilled technicians understands the importance of prompt, reliable service that aligns with the high standards set by the residents of Chaplin Estates.
Whether it's your wine cooler, the heart of your treasured wine collection, or any other household appliance, we're here to ensure they perform at their best. As your neighbors, we value your trust and are dedicated to providing expert solutions to your appliance issues. We eagerly anticipate the opportunity to serve your appliance repair needs, ensuring that your home remains in optimal working order.
Thank you, Chaplin Estates, for embracing us into your wonderful neighborhood, and we're excited to be your appliance repair partner.
Whether you require dryer repair, stove repair, or any other appliance service, we're here to provide the expert assistance you deserve from ARS Appliance Repair Services. Don't let appliance issues disrupt your daily life or business operations. Trust in ARS to keep things running smoothly in the lap of luxury. Contact us!